error_outline
Flexible Private Trip — Book Your Dates for You & Yours!
From Lake Van to the Black Sea
Overview
Little visited by most travelers, Eastern Turkey brings an entirely new angle of exploration to this crossroads of a country. From an isolated island church on Lake Van to the secrets of the Black Sea coast – far closer to Tbilisi than to Istanbul – even those who have been to Turkey before will discover something new on this nine-day private itinerary to the eastern end of the country. Beginning in Van, make your way north along the eastern border to Kars and Hopa, then follow the Black Sea Coast to Trabzon, exploring historic sights and architectural wonders along the way.
Travels to: Turkey
Map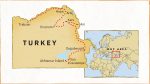 Itinerary
Days 1-2: Van (Turkey), Akhtamar Island, Cavustepe

Arrive in Van, once capital of the ancient Urartu Empire in the 9th century BCE and ruled by Armenians until the Ottomans took control in the mid-16th century. The next day, catch a boat across Lake Van to Akhtamar Island and the 10th century Armenian Church of the Holy Cross. Return to the mainland and visit the Urartian Fortress & Palace complex at Cavustepe, Hosap Castle, and Van Castle.

HIGHLIGHTS

Take a boat to Akhtamar Island and visit the 10th century Armenian Holy Cross Church perched above the beach.
Pay a visit to Hosap Castle, built by a Kurdish warlord in 1643, and Van Castle, with it's spectacular view overlooking Lake Van and the ruins of old Van.
Try and spot the Van cat, a unique feline bread with distinctive long white fur, one blue eye, and one green eye.

Days 3-4: Dogubeyazit, Kars, Ani

Make your way across Eastern Anatolia to Kars via Dogubeyazit, a kurdish town set in the shadow of 15,000-foot Mt. Ararat. Visit the Ishak Pasha Palace and stop at the broad Muradiye waterfalls before arriving in Kars and touring the city with its old Citadel. The next day, head towards the Armenian border to visit the UNESCO-listed ruins of Ani, once the medieval capital of the Armenian Kingdom. Return to Kars to explore the Kars Cathedral.

HIGHLIGHTS

Pay a visit to the Ishak Pasha Palace, which took 99 years to build, and the Muradiye waterfalls on the Bendhi Mahj River.
If the weather is favorable, enjoy views of 15,000-foot Mt. Ararat, said to be the resting place of Noah's Ark.
Tour Kars with its old Citadel perched above the town and the 10th century Armenian Church of the Apostles (Kars Cathedral), which was turned into a mosque in 1993.

Days 5-6: Erzurum, Hopa

Head west toward Erzurum to spend a night, then north toward the Black Sea coast and Hopa, passing through Ishan, Artvin, and the Georgian Valleys along the way. Located on the Black Sea coast near the Georgian border, Hopa is a small port city specializing in tea and hazelnuts. Enjoy a night in this coastal town before continuing to your final destination.

HIGHLIGHTS

A visit to Ishan Georgian Church, one of the oldest Georgian churches in Turkey located on top of a dramatic mountain road.
Driving through the scenic areas of Arvin and the Georgian Valleys.
Overnight in Hopa, a small port city on the Black Sea coast.

Days 7-9: Trabzon

Make your way west along the Black Sea cost to lively Trabzon, the largest Black Sea port in eastern Turkey with an ancient bazaar and many cafes and restaurants. Visit the old Greek Orthodox Monastery of Sumela, clinging to a steep cliff in a forested area outside Trabzon, as well as the Church of Hagia Sofia (Ayasofya Mosque), the Ataturk Pavilion, and Uzungol (Long Lake).

HIGHLIGHTS

Tour the city of Trabzon, once a 7th century Greek colony where the local Turkish dialect is still understood by Greek speakers.
Explore the impressive Sumela Monastery, originally founded in the 4th century with vivid frescoes still covering the walls.
Stop at the 13th century Church of Hagia Sophia (now known as the Ayasofya Mosque), the jewel of Trabzon's Christian monuments overlooking the Black Sea on the site of an ancient pagan temple.
Visit the Ataturk Pavilion, the four-story lodge where the new leader stayed on his first tour of the new republic.
Hike around Uzungol (Long Lake) – a hidden paradise in the Pontic Alps.
Dates &amp Prices
Please note:
Private trip prices vary by season and are subject to hotel availability for your travel dates.
Listed prices below are based on double occupancy and a 2 traveler minimum.
Hotel upgrades, additional nights, and solo traveler prices are available on request.
Land tour price, per person, starting from:
2023 Dates

Available: April - October

Tour, double occupancy

$4,495
What's Included
Tour Includes

Shared accommodations as noted in the itinerary. Contact MIR for hotel upgrade prices.
Meals, as noted in the itinerary.
Restaurant tips for included meals.
One arrival and one departure transfer. Additional arrival and departure transfers available at additional cost.) MIR will arrange for travelers to be met upon arrival and seen off on departure, whether or not we make your air arrangements.
Ground transportation throughout itinerary by private vehicle (Type of vehicle depends on number of travelers in your group).
Services of experienced, English-speaking local guides, drivers, and other staff, as noted in the itinerary.
Guided sightseeing tours and entrance fees, as outlined in the itinerary.
Special events, excursions, and cultural performances, as outlined in the itinerary.
Complete pre-departure information including detailed packing list, reading list, and Touring with MIR handbook with country-specific information, maps, and travel tips.
Final document packet, including final updates and more.
Assistance booking your custom flight arrangements, on request. (Please note that international airfare is not included in the land tour cost).

Not Included

International airfare and taxes/fuel surcharges.
Meals and drinks not specified as included in the itinerary.
Single supplement if requested or required.
Baggage handling.
Gratuities to local guides, drivers, porters, and other service personnel.
Expenses incurred as a result of delay, modification, or extension of a tour due to causes beyond MIR's control.
Travel-related insurance including cancellation, medical, and evacuation insurance.
Visa fees, excess-baggage charges, airport departure taxes, vaccination and other medical costs.
Optional pre- or post-tour extensions.
Items of a personal nature such as phone calls, email, laundry, and alcohol.
Activity Level
Level 2: Moderate, but Customizable
This 'Essential' itinerary designed for private travel features long days walking and standing, some long days of overland travel, some stair climbing, cobblestones or unpaved sidewalks and streets, uneven surfaces and steps, absent handrails, and lack of elevators. While some of these challenges are inherent in the destinations and sites, as one of our Essential Series programs this trip can be modified as needed for those travelers who are looking for a less challenging (or more challenging) program.
There is a significant amount of touring on foot, and those travelers planning to take the program as written should be able to walk at least a mile a day comfortably. Some long drives are an inevitable element of the routing this tour uses, and road conditions in the region can be bumpy and rough. Some attractions are only accessible via steep staircases with tall, uneven steps, and handrails are not always in place. Interior staircases may involve steep steps inside narrow passageways with limited light. Touring will be over a variety of surfaces, such as cobblestones, bricks, packed or loose dirt, or gravel, including uphill or downhill sections.
Past travelers have also encountered challenges with bureaucratic service, plumbing in and out of hotels, and availability and quality of public restrooms.
Accommodations in the basic program will vary from comfortable three-star to four-star hotels, some quite small with basic amenities and services. Upgrades may be available in some cities, please call for details.
Gallery