error_outline
Russia tour sales suspended
Rolling Steppe, Lakeshore, and Taiga
Overview
This introduction to Siberia focuses on two of its most culturally rich cities, Ulan Ude and Irkutsk, and one of its most striking natural features, Lake Baikal. MIR's expert local guides will show how diverse influences – Mongolian and Buryat, Russian imperialist and Soviet, Orthodox and Buddhist – have all left their mark on this fascinating corner of the world. A trip on a particularly scenic stretch of the Trans-Siberian Railroad takes you deep into tiaga (subarctic forest), and a boat ride on UNESCO-listed Lake Baikal provides a chance to admire the pristine beauty of the world's deepest and oldest freshwater lake.
Travels to: Russia
Map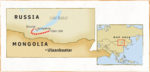 Itinerary
Days 1-2: Ulan Ude (Russia)

Stop one is Ulan Ude, the capital of Russia's Buryat Republic and the cultural center of the Buryats, a Mongolic people who make up Siberia's largest indigenous group. Outside of town, tour the Ivolginsk Datsan, Russia's most important Buddhist monastery and school where young llamas from all over the country come to live and study. Stroll through the city center's colorful market and take a look at its most famous landmark, the world's biggest Lenin head. Then pay a visit to a village of Old Believers – a religious group that rebelled against changes to the Orthodox liturgy in 1652 and who were exiled to Siberia. In their isolated enclaves, they've preserved 17th century styles of clothing, architecture, and music.

HIGHLIGHTS

The main temple of the Ivolginsk Datsan, filled with decorative silks, painted woodwork, and precious stones
Ulan Ude's giant Lenin head, a bronze statue rising 25 feet above the main square
A home-cooked dinner with a group of Old Believers, who's uniquely preserved culture has earned them a place on UNESCO's List of the Intangible Cultural Heritage of Humanity

Days 3-4: Trans-Siberian Railroad, Listvyanka, Lake Baikal

From Ulan Ude, board the legendary Trans-Siberian Railroad and travel along one of its most scenic stretches, leading to Irkutsk. From there continue to the village of Listvyanka set along the shores of UNESCO-listed Lake Baikal, the world's deepest and oldest freshwater lake. Learn about the lake's unique ecosystem at the Baikal Museum, where an aquarium is home to nerpas – a species of freshwater seal found only at the lake. Then take a boat ride onto Baikal's pristine waters, after which enjoy an opportunity to indulge in a banya – a traditional Russian steam bath.

HIGHLIGHTS

A ride on the Trans-Siberian Railroad, passing through tiaga (subarctic forest) and stopping at small villages
Little Listvyanka village and its Baikal Museum, which includes aquariums displaying the lake's unique marine life
A boat ride on UNESCO-listed Baikal, the deepest and oldest freshwater lake in the world
An optional banya – an authentic Russian steam bath – in Listvyanka

Days 5-7: Irkutsk

Stop at the open-air Museum of Wooden Architecture on the way back to Irkutsk, the surprisingly sophisticated cultural capital of eastern Siberia. A tour of the city includes a stroll along the Angara River Embankment and stops at Epiphany Cathedral, Znamensky Convent, and the Regional History Museum. Irkutsk is known for the intricate ornamentation of its 19th century wooden houses; visit a prime example, the Decembrist House Museum – the well-preserved home of one member from a group of failed 19th century pro-democracy revolutionaries who settled here following their terms in Siberian labor camps.

HIGHLIGHTS

The 166-acre Wooden Architecture Museum, a collection of authentic Russian and indigenous houses and community buildings dating from the 17th to the 20th century
The Regional History Museum, displaying ethnographic artifacts from Siberia, the Russian Far East, and Kamchatka
The Decembrist House Museum, once the home of Prince Sergei Volkonsky, a leader of the Decemberists, a group of 19th century democratic revolutionaries exiled to Siberia
Dates &amp Prices
Please note:
Private trip prices vary by season and are subject to hotel availability for your travel dates.
Listed prices below are based on double occupancy and a 2 traveler minimum.
Hotel upgrades, additional nights, and solo traveler prices are available on request.
Land tour price, per person, starting from:
2023 Dates

Available: April - October

Tour, double occupancy

$2,895
What's Included
Tour Includes

Shared accommodations as noted in the itinerary. Contact MIR for hotel upgrade prices.
Meals, as noted in the itinerary.
Restaurant tips for included meals.
One arrival and one departure transfer. Additional arrival and departure transfers available at additional cost.) MIR will arrange for travelers to be met upon arrival and seen off on departure, whether or not we make your air arrangements.
Ground transportation throughout itinerary by private vehicle (type of vehicle depends on number of travelers in your group.)
Services of experienced, English-speaking local guides, drivers, and other staff, as noted in the itinerary.
Guided sightseeing tours and entrance fees, as outlined in the itinerary.
Special events, excursions, and cultural performances, as outlined in the itinerary.
Complete pre-departure information, including detailed packing list, reading list, and Touring with MIR handbook with country-specific information, maps, and travel tips.
Final document packet, including luggage tags, final updates, and more.
Assistance booking your custom flight arrangements, on request. (Please note that international airfare is not included in the land tour cost).
Train tickets from Ulan Ude to Irkutsk.

Not Included

International airfare and taxes/fuel surcharges.
Meals and drinks not specified as included in the itinerary.
Single supplement if requested or required.
Baggage handling.
Gratuities to local guides, drivers, porters, and other service personnel.
Expenses incurred as a result of delay, modification, or extension of a tour due to causes beyond MIR's control.
Travel-related insurance, including cancellation, medical, and evacuation insurance.
Visa fees, excess-baggage charges, airport departure taxes, vaccination and other medical costs.
Optional pre- or post-tour extensions.
Items of a personal nature such as phone calls, email, laundry, and alcohol.
Activity Level
Level 3: Medium, but Customizable
This 'Essential' itinerary designed for private travel features long days walking and standing, some optional light hiking, some long days of overland travel, some stair climbing, travel by local trains, unpaved sidewalks and streets, uneven surfaces and steps, absent handrails, and lack of elevators. While some of these challenges are inherent in the destinations and sites, as one of our Essential Series programs this trip can be modified as needed for those travelers who are looking for a less challenging (or more challenging) program.
There is a significant amount of touring on foot, and those travelers planning to take the program as written should be able to walk at least one to two miles a day comfortably. There are some long drives and road conditions in the region can be bumpy and rough. Train travel comes with its own challenges: train stations feature steep staircases and may require relatively long walks to the departure platform. Trains themselves have small quarters, heavy doors, and steep steps and thresholds. You will have to carry your own baggage in train stations and on and off the train. Passengers may encounter problems getting on and off trains; there may be low platforms, steep steps, and/or gaps between the platform and the train.
Some attractions are only accessible via steep staircases with tall, uneven steps, and handrails are not always in place. Interior staircases may involve steep steps inside narrow passageways with limited light. Touring will be over a variety of surfaces such as cobblestones, bricks, grass, packed or loose dirt, or gravel, including uphill or downhill sections.
Please note, some Orthodox churches enforce fairly strict dress codes. Women may need to have head coverings (scarves) with them, and men and women may need to have their arms and legs modestly covered. Your guides will advise you when this is the case.
Past travelers have encountered challenges with bureaucratic service, plumbing in and out of hotels, and availability and quality of public restrooms. Accommodations in the basic program will vary from tourist class hotels to basic guesthouses. Upgrades may be available in some cities, please call for details. Air-conditioning is a luxury and may not be available.
Gallery