error_outline
Flexible Private Trip — Book Your Dates for You & Yours!
Bridging the Past and Present
Overview
Turkey sits where East and West truly meet, and the country offers everything from ancient ruins of the classical world to stunning otherworldly natural vistas. A warm and welcoming population and amazingly rich cuisine round out just some of the highlights to be found here. Experience the breadth and splendor of what Turkey has to offer on this two-week private tour, hitting the main sights in Istanbul, wandering the ancient ruins that dot the country's Aegean Coast, flying to the political capital of Ankara, exploring the many caves of Cappadocia, and seeing multiple UNESCO-listed sights along the way.
Travels to: Turkey
Map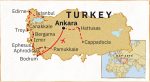 Itinerary
Days 1-4: Istanbul (Turkey), Edirne, Canakkale

After arriving into Istanbul, spend the next few days of your private tour exploring the Sultanahmet area, Istanbul's atmospheric Old Town where the city's finest monuments are found; Kuzguncuk, a "hidden gem" of a neighborhood located on the Asian side of the city with many opportunities to sample Turkish cuisine and sweets; and the hip, historic harborside neighborhood of Karakoy. Then, depart Istanbul for Edirne, near the border with Greece and the location of the 16th century UNESCO-listed Selimiye Mosque – masterpiece of chief Ottoman architect, Mimar Sinan. Turn south and make your way towards Canakkale and the Aegean coast, passing Gallipoli on your way.

HIGHLIGHTS

Exploring the historic Sultanahmet district with visits to UNESCO-listed Topkapi Palce, the Great Palace of the Ottoman Sultans form the 15th to 19th centuries; UNESCO-listed Hagia Sophia, originally built by Byzantine Emperor Justinian around 537; the UNESCO-listed Blue Mosque, with its towering minarets and layered domes; and the Basilica Cistern, an underground forest of columns under Istanbul.
Wandering through Istanbul's 15th century Grand Bazaar, one of the largest covered markets in the world, and the 17th century Spice Bazaar, also known as the Egyptian Bazaar.
A visit to the mid-19th century Dolmabahce Palace, the administrative center of the Ottoman Empire from 1856-1922 and the largest palace in Turkey.
Exploring the delightful Kuzguncuk neighborhood on the Asian side of the city and the hip, historic harbor side neighborhood of Karakoy on the European side.
Visit to the 16th century Selimiye Mosque in Edirne, a UNESCO-listed site built by Ottoman architect Mimar Sinan.

Days 5-6: Troy, Bergama (Pergamon), Izmir, Ephesus

Stop by the historic ruins of Troy before heading south, tracing your way along the Aegean Coast to Izmir with a stop in Bergama along the way. The market town of Bergama is best known for its former name, Pergamon – the cultural center of a rich and powerful kingdom during the Greek and Roman period. From Izmir, enjoy a daytrip to Ephesus, a major Greek city and one of the Seven Wonders of the Ancient World.

HIGHLIGHTS

Wander the UNESCO-listed archaeological site of Troy, made famous by Homer's Iliad and Odyssey.
Stop in Bergama to see the ruins of the ancient town of Pergamon including the 10,000-seat natural theater, Temple of Dionysus, ruins of a fine acropolis, "Red Basilica" complex built by Emperor Hadrian, and the Asclepion – an ancient medical center.
Overnight in Izmir, known in ancient times as Smyrna and Turkey's third largest city.

Days 7-10: Aphrodisias, Pamukkale, Bodrum, Didyma, Miletus, Priene

Head inland and make your way to Pamukkale, or "Cotton Castle," with a stop at the remains of Aphrodisias en route. Built at the top of the cliffs of Pamukkale, the ancient spa city of Hierapolis is today a UNESCO-listed open-air museum. After overnighting in Pamukkale, head back west to the coast and spend the next few days in Bodrum, a port town with an ancient castle built by the Knights Hospitaller in 1402. Visit the Museum of Underwater Archaeology, sail around Turkey's beautiful Turquoise Coast on a gulet, and enjoy a daytrip to Didyma, Miletus, and Priene.

HIGHLIGHTS

Explore the ruins of Aphrodisias
Pay a visit to Heirapolis, an ancient Roman spa city and UNESCO-listed open-air museum ruins of a well-preserved theater and necropolis.
Overnight near Pamukkale, or "Cotton Castle" – site of natural, cascading travertine terraced pools created by thermal springs reacting with the air.
Visit the Bodrum Castle, built by the Knights Hospitaller in 1402, and its Museum of Underwater Archaeology.
Sail around Turkey's beautiful Turquoise Coast on a privately chartered gulet – a small traditional wooden sailboat.
Wander the site of Didyma, home to fascinating ancient ruins dating back to 700 BCE; the ancient Greek city of Miletus; and the Greek ruins of Priene, considered to be one of the most complete examples of an intact Greek city.

Days 11-15: Ankara, Hattusas, Cappadocia

Fly to Ankara, Turkey's capital, and tour some of the city's highlights before setting off for Cappadocia the next day with a visit to the ruins of Hattusa, capital of the powerful Hittite Empire, on the way. In Cappadocia, spend several days exploring the UNESCO-listed Goreme National Park, with its frescoed rock churches, many cave towns, and other-worldly natural landscapes.

HIGHLIGHTS

Tour of Ankara, Turkey's capital and famous for its Angora wool and mohair, with a visit to the Anatolian Civilizations Museum.
Explore the UNESCO-listed ruins of Hattusa, capital of the Hittite Empire that ruled the region from 1750 to 120 BCE.
Visits to UNESCO-listed Goreme National Park including Pigeon Valley, Uchisar Fortress, the Goreme Open-Air Museum, Pidgeon Valley, and Devrent Valley.
Explore the ancient cave town of Kaymakli, first tunneled out of the soft rock sometime in the 8th and 7th centuries BCE.
Visit to the labyrinthine Keslik Monastery, one of the earliest monastic centers in Cappadocia.
Stop by some of the villages and small towns of Cappadocia including Cemil Village, Mustafapasa, and Avanos.
Attend a Whirling Dervish Ritual ceremony, included in UNESCO's List of Intangible Cultural Heritage of Humanity.
Dates &amp Prices
Please note:
Private trip prices vary by season and are subject to hotel availability for your travel dates.
Listed prices below are based on double occupancy and a 2 traveler minimum.
Hotel upgrades, additional nights, and solo traveler prices are available on request.
Land tour price, per person, starting from:
2023 Dates

Available: April - October

Tour, double occupancy

$7,295

Plus internal airfare

$100
What's Included
Tour Includes

Shared accommodations as noted in the itinerary. Contact MIR for hotel upgrade prices.
Meals, as noted in the itinerary.
Restaurant tips for included meals.
One arrival and one departure transfer. Additional arrival and departure transfers available at additional cost.) MIR will arrange for travelers to be met upon arrival and seen off on departure, whether or not we make your air arrangements.
Ground transportation throughout itinerary by private vehicle (Type of vehicle depends on number of travelers in your group).
Services of experienced, English-speaking local guides, drivers, and other staff, as noted in the itinerary.
Guided sightseeing tours and entrance fees, as outlined in the itinerary.
Special events, excursions, and cultural performances, as outlined in the itinerary.
Complete pre-departure information including detailed packing list, reading list, and Touring with MIR handbook with country-specific information, maps, and travel tips.
Final document packet, including final updates and more.
Assistance booking your custom flight arrangements, on request. (Please note that international airfare is not included in the land tour cost).

Not Included

International airfare and taxes/fuel surcharges.
Meals and drinks not specified as included in the itinerary.
Single supplement if requested or required.
Baggage handling.
Gratuities to local guides, drivers, porters, and other service personnel.
Expenses incurred as a result of delay, modification, or extension of a tour due to causes beyond MIR's control.
Travel-related insurance including cancellation, medical, and evacuation insurance.
Visa fees, excess-baggage charges, airport departure taxes, vaccination and other medical costs.
Optional pre- or post-tour extensions.
Items of a personal nature such as phone calls, email, laundry, and alcohol.
Activity Level
Level 2: Moderate, but Customizable
This 'Essential' itinerary designed for private travel in Turkey features long days walking and standing, some long days of overland travel, some stair climbing, cobblestones or unpaved sidewalks and streets, uneven surfaces and steps, absent handrails, and lack of elevators. While some of these challenges are inherent in the destinations and sites, as one of our Essential Series programs this trip can be modified as needed for those travelers who are looking for a less challenging (or more challenging) program.
There is a significant amount of touring on foot, and those travelers planning to take the program as written should be able to walk at least a mile a day comfortably. Some long drives are an inevitable element of the routing this tour uses, and road conditions in the region can be bumpy and rough. Some attractions are only accessible via steep staircases with tall, uneven steps, and handrails are not always in place. Interior staircases may involve steep steps inside narrow passageways with limited light. Touring will be over a variety of surfaces, such as cobblestones, bricks, packed or loose dirt, or gravel, including uphill or downhill sections.
Past travelers have also encountered challenges with bureaucratic service, plumbing in and out of hotels, and availability and quality of public restrooms.
Accommodations in the basic program will vary from comfortable three-star to four-star hotels, some quite small with basic amenities and services. Upgrades may be available in some cities, please call for details.
Gallery