Multi-Region
Inside the Russian Space Program
Photo credit: Douglas Grimes
error_outline
All Russia tours for 2022 have been canceled.
From Star City to the Baikonur Cosmodrome
Overview
This electrifying exploration of the Russian Space Program is an incredibly close encounter with space flight – the manned launch of a Soyuz spacecraft. In Moscow, tour Star City, Russia's premier cosmonaut training facility, where you can choose to participate in optional cosmonaut training yourself. At Baikonur, the remote Russian launch facility on the Kazakh steppe, witness the rollout of the Soyuz and the Raising of the Rocket ceremony. Rub shoulders with top international space officials, space veterans, and family of the next space crew; and from a special viewing area, witness the heart-stirring launch of the Soyuz on its way to the International Space Station.
Travels to: Russia, Kazakhstan
Map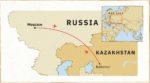 Itinerary
Days 1-2: Moscow (Russia), Star City

Arrive in Moscow and gather for a welcome reception. Tour the Yuri Gagarin Cosmonaut Training Center (GCTC) in once-classified Star City, the premier training facility for Russian cosmonauts and foreign astronauts. Each program participant receives a special certificate recognizing his or her visit to Star City.

HIGHLIGHTS

Welcome reception and dinner at a local restaurant
Star City tour, including the International Space Station (ISS) simulator and the world's largest centrifuge

Day 3: Moscow, Optional Cosmonaut Training Day

Those prepared for optional cosmonaut training, such as a breathtaking Zero-G flight, head for the GCTC today. The others drive outside of Moscow to tour the space exploration museum, the Memorial Museum of Cosmonautics.

HIGHLIGHTS

Optional Zero-G flight, Orlan spacesuit donning, or Hydrolab training
Memorial Museum of Cosmonautics
Moscow's 850-year-old Kremlin and Red Square, a UNESCO World Heritage Site

Days 4-7: Baikonur (Kazakhstan), Soyuz launch

Board a special flight to Baikonur Cosmodrome on the Kazakh steppe. Walk alongside the Soyuz rocket during its rollout to the launch pad, together with the press, military personnel, cosmonauts and their relatives. Appreciate the pioneers of space along the Alley of Cosmonauts. Experience compelling behind-the-scenes events, including the send-off of the space crew from the Cosmonaut Hotel, and the official Ready-To-Go Report. From a special viewing area, witness the thrilling manned launch of the Soyuz to the International Space Station.

HIGHLIGHTS

Baikonur Cosmodrome on the Kazakh steppe
Roll-out of Soyuz Rocket and Raising of the Rocket ceremonies
Baikonur Museum, including Gagarin and Korolev living apartments
Energia and Proton launch pads
VIP viewing area from which to witness and feel the power of the Soyuz launch

Days 8-10: Moscow

Back in Moscow, visit UNESCO-listed Novodevichy Convent and Cemetery, where such luminaries as Chekhov, Khrushchev, and a number of cosmonauts are buried. Explore the Energia Space Museum, as well as the WWII Memorial at Poklonnaya Gora and Victory Park, before celebrating with a final farewell dinner.

HIGHLIGHTS

16th century Novodevichy Convent and Cemetery, where luminaries such as Gogol, Chekhov, Khrushchev, Raisa Gorbacheva, and Boris Yeltsin are buried
The Energia Space Museum, displaying artifacts from the history of space travel in the former Soviet Union and today's Russia
Poklonnaya Gora and Victory Park, dedicated to the memory of those who fought and died for Soviet victory in WWII
Dates &amp Prices
Small group tour – max 16 travelers
Land tour price, per person. Based on double occupancy and minimum group size of 4 travelers.
Please note: Land price includes internal air on special round trip flight to Baikonur. Travelers must remain flexible because the trip dates may fluctuate if the launch date shifts.
Call for dates and prices
What's Included
Tour Includes

Accommodations, as noted in the itinerary.
Most meals, as noted in the itinerary.
A daily supply of bottled water.
Arrival/departure airport transfers on the tour start/end date. MIR will arrange for all travelers to be met upon arrival and seen off upon departure whether or not we make your flight arrangements.
Ground transportation throughout tour by private van or coach (type of vehicle depends on group size), and by internal air Moscow-Baikonur-Moscow
Services of experienced, English-speaking local guides, drivers, and other staff, including a MIR Tour Manager.
Guided sightseeing tours and entrance fees, as outlined in the itinerary.
Special events, excursions, and cultural performances, as outlined in the itinerary.
Gratuities to local guides, drivers, and other service personnel, including servers at group meals.
Complete pre-departure information, including detailed packing list, reading list, and Touring with MIR handbook with country-specific information, maps, and travel tips.
Final document packet, including luggage tags, final updates, and more.
Assistance booking your custom flight arrangements, on request. (Please note, international airfare is not included in the land tour cost.)
Customized visa information and instructions. (Please note, visa fees are not included in the tour price.)

Not Included

International airfare and taxes/fuel surcharges.
Meals and drinks not specified as included in the itinerary.
Single supplement (or partial single supplement where applicable), if requested or required.
Gratuities to Tour Manager.
Expenses incurred as a result of delay, modification, or extension of a tour due to causes beyond MIR's control.
Travel insurance, including cancellation, medical, and evacuation insurance.
Visa and/or passport fees, excess-baggage charges, airport departure taxes, vaccination and other medical costs.
Optional pre- or post-tour extensions.
Items of a personal nature such as phone calls, email, laundry, and alcohol.
Activity Level
Level 3: Medium
This small group tour to remote destinations features some long overland drives, domestic flights, a significant amount of touring on foot, and odd hours necessitated by the timing of the Russian space program. Only those fit to travel and who are willing to accept local standards of amenities and services, and the physical challenges of the program, should consider joining.
Travelers must be able to walk one to two miles a day while keeping up with fellow travelers on a variety of terrain. Drives in remote Kazakhstan can involve somewhat rough surfaces and long periods spent in the vehicle. The flights used are highly subject to change, and odd-hours flights (early a.m. and overnight flights) are to be expected – often precluding full nights of sleep, and connected to long drives in the touring vehicle. Some attractions are not designed for visitors as they are working facilities.
Some attractions are only accessible via steep staircases. Elevators are not available at touring sites, nor at some of the hotels.
Other challenges include overall shortcomings in the tourism infrastructure of these remote destinations, including some that can cause walking challenges such as unpaved sidewalks, uneven surfaces and steps, broken pavement (streets or sidewalks), and a general absence of handrails or ramps. Accommodations vary from three or four-star properties to more basic accommodations at Baikonur. Past travelers have also encountered challenges with plumbing, bureaucratic service, variety of locally available foods, and availability and quality of public restrooms.
Gallery
2/14

Christopher Prentiss Michel

3/14

Christopher Prentiss Michel

4/14

Christopher Prentiss Michel

5/14

Christopher Prentiss Michel
Video