error_outline
Russia tour sales suspended
Land of Frost & Fire
Overview
A trip to Russia's Far East is a chance to discover pristine beauty and indigenous cultures in a part of the world that's far from the beaten path. On this itinerary you'll travel to Yakutsk, capital of the Sakha Republic, where herds of mammoths once roamed and a quarter of the world's diamonds are now mined. After a stopover in the port city of Vladivostok, it's on to the Kamchatka Peninsula, a region defined by its hundreds of volcanoes set along the Pacific Ring of Fire. At every stop MIR's seasoned guides will introduce you to the locals and take you out into the magnificent wilderness, which includes two UNESCO World Heritage Sites – the Lena Pillars near Yakutsk and the Valley of Geysers in Kamchatka.
The 2023 departure is timed to coincide with the Ysyakh summer festival featuring horse racing, traditional song and dance and fantastic people-watching.
The 2023 departure of this tour will feature special host Michel Behar, who has traveled and led more than 100 tours to every corner of MIR's realm since 1998.
Travels to: Russia
Map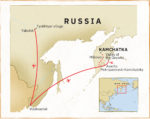 Itinerary
Days 1-4: Yakutsk (Russia)

Arrive in Yakutsk, the world's largest city built on permafrost and the capital of the Sakha Republic, more than 40% of which sits above the Arctic Circle. Tour the Mammoth Museum, focusing on the wild mammoths that roamed the area over 40,000 years ago; the Kingdom of Permafrost, an enchanting gallery space set deep inside a mountain; and the Treasury of Yakutia exhibition, showcasing the region's mineral wealth, which includes 25% of the world's mined diamonds. On two day trips, cruise along the Lena River to UNESCO-listed Lena Pillars Nature Park, and drive to the Yakut village of Tyokhtyur to learn about daily life there while having lunch in the home of a local family.

HIGHLIGHTS

Yakutsk's distinctive architecture; most structures are built on pylons or stilts to withstand permafrost
Examining the remnants of the large mammoth population that once lived in the region at the Museum of the Mammoth
The novel Kingdom of Permafrost, where you can view fanciful ice sculptures and drink vodka from ice glasses
The gems and elegant jewelry on display at the Treasury of Yakutia
UNESCO-listed Lena Pillars, awesome limestone columns that tower 650 feet above the adjacent river
Joining a local family for lunch at the Yakut village of Tyokhtyur

Days 5-6: Vladivostok

Fly to Vladivostok, a former naval outpost that's now a key port city for Russian trade in Asia. Take a tour of the waterfront, including the Pacific Navy Military History Museum, where you can climb inside a Soviet submarine from WWII. Then ascend Eagle's Nest Hill for a panorama of the city and the surrounding bay, including the world's longest cable-stay bridge, which leads to Russian Island, where a massive Soviet battery still stands.

HIGHLIGHTS

A tour of the S-56, a Soviet submarine that saw extensive action in WWII, at the Pacific Navy Military History Museum
The observation platform on Eagle's Nest Hill, providing an expansive view of Vladivostok and Golden Horn Bay

Days 7-9: Petropavlovsk-Kamchatsky

Fly to the wild, volcanic Kamchatka Peninsula, located along the Pacific Ring of Fire, touching down in its major city, Petropavlovsk-Kamchatsky. Get the lay of the land at the interactive Vulcanarium Museum and then venture out to explore. Board a helicopter for a trip to the UNESCO-listed Valley of the Geysers, observing along the way the Uzon Caldera, formed over 225,000 years ago when a great shield volcano exploded. The following day take a cruise on Avacha Bay, observing the ship traffic, wildlife, and rock formations of one of the world's largest bays, with the cone of Avacha Volcano steaming on the horizon.

HIGHLGIHTS

The multimedia exhibits at the Vulcanarium Museum
Touring the Valley of the Geysers, where boardwalks thread their way through a landscape of geysers, mud pots, thermal springs, and steam vents
The helicopter view over Uzon Caldera, a 60-square-mile volcanic depression
The sheer Three Brothers sea stacks standing guard at the mouth of Avacha Bay

Days 10-12: Esso

Drive inland through wild landscape to the village of Esso, one of Kamchatka's most idyllic locales, nestled in a wooded valley. Meet members of the two major indigenous peoples here, the Koryak and the Even, both nomadic reindeer-herding cultures. Learn more about them at the local ethnographic museum and attend a performance of their traditional song and dance. Explore the Bystrinsky Nature Park, a giant preserve that includes Esso, laced with trails, rivers, and hot springs.

HIGHLIGHTS

The scenic drive to Esso
Esso's ethnographic museum, one of the best of its kind in Russia
Bystrinsky Nature Park, 5,000 square miles of pristine wilderness encompassing 120 volcanoes
A traditional folk performance and dinner

Days 13-14: Petropavlovsk-Kamchatsky, Avacha Volcano

Return to Petropavlovsk-Kamchatsky and the next day hop aboard a six-wheel truck for a rugged drive to the basecamp of Avacha Volcano. Picnic at the foot of the volcano and then, if you choose, set off for a moderate hike up Camel Mountain. Lovely wildflowers along the slope and breathtaking views of Zhupanovsky, Vilyuchinsky, and Koryaksky volcanoes reward your effort. Back in town that evening, toast your adventures at a festive farewell dinner.

HIGHLIGHTS

Picnicking at the foot of Avacha Volcano
Wildflowers and scenic views on the hike up Camel Mountain
Dates &amp Prices
Small group tour – max 16 travelers
Land tour price, per person. Based on double occupancy and minimum group size of 6 travelers.
2023 Dates

June 21 - July 5

The 15-day 2023 departure features Ysyakh Festival and Michel Behar is scheduled to lead this departure.

Tour, double occupancy

$8,295

Plus internal airfare

$1,600
What's Included
Tour Includes

Accommodations, as noted in the itinerary.
Most meals, as noted in the itinerary.
A daily supply of bottled water.
Arrival/departure airport transfers on the tour start/end date. MIR will arrange for all travelers to be met upon arrival and seen off upon departure whether or not we make your flight arrangements.
Ground transportation throughout tour by private van or coach. (Type of vehicle depends on group size.)
Services of experienced, English-speaking local guides, drivers, and other staff, including a MIR Tour Manager.
Guided sightseeing tours and entrance fees, as outlined in the itinerary.
Special events, excursions, and cultural performances, as outlined in the itinerary.
Gratuities to local guides, drivers, and other service personnel, including servers at group meals.
Complete pre-departure information, including detailed packing list, reading list, and Touring with MIR handbook with country-specific information, maps, and travel tips.
Final document packet including luggage tags, final updates, and more.
Assistance booking your custom flight arrangements, on request. (Please note, international airfare is not included in the land tour cost.)
Customized visa information and instructions. (Please note, visa fees are not included in the tour price.)

Not Included

International airfare and taxes/fuel surcharges.
Meals and drinks not specified as included in the itinerary
Single supplement (or partial single supplement where applicable), if requested or required.
Gratuities to Tour Manager.
Expenses incurred as a result of delay, modification, or extension of a tour due to causes beyond MIR's control.
Travel insurance, including cancellation, medical, and evacuation insurance.
Visa and/or passport fees, excess-baggage charges, airport departure taxes, vaccination and other medical costs.
Optional pre- or post-tour extensions.
Items of a personal nature such as phone calls, email, laundry, and alcohol.
Internal airfare. (Internal airfare is quoted separately and subject to change by airlines.)
Activity Level
Level 4: Rigorous
This intentionally adventuresome small group tour features challenging overland travel sometimes on rough unpaved roads in 4WD vehicles, a significant amount of touring on foot, some hiking, challenging domestic air travel, day tours by boat, and some rustic accommodations. Only those very fit to travel and who are willing to accept local standards of amenities and services and the physical challenges of the program should consider joining. We strongly encourage you to talk with us about any questions you may have regarding the rigors of this trip or destination when considering this tour.
Travelers must be able to walk 2-3 miles a day keeping up with fellow travelers on a variety of terrain including packed dirt (muddy when wet), a steep and challenging climb with difficult footwork and limited handrails to the top of the Lena Pillars (via stairs), and a steep and challenging walk up Camel Mountain (20-degree grade, with 50 meters at 30 degrees) on volcanic slag with snow or ice present. Domestic flights are highly subject to change, and odd-hours flights (early a.m. and overnight flights) are to be expected. A day trip is done by converted military helicopter; two boat trips are done which may include rough water, steep gangplanks, slippery decks, and other such challenges.
Some attractions are only accessible via steep staircases with tall, uneven steps, and some of the sites may involve steep steps inside narrow passageways with limited light. Elevators are not available at touring sites, nor at some of the hotels.
Other challenges include overall shortcomings in the tourism infrastructure of these remote destinations, including some that can cause walking challenges such as unpaved sidewalks, uneven surfaces and steps, packed-dirt streets, broken pavement (streets or sidewalks), and a general absence of handrails or ramps. Accommodations vary from three or four-star properties to relatively basic and simple hotels in the more remote areas, with shared toilet and shower facilities. Past travelers have also encountered challenges with plumbing, bureaucratic service, variety of locally available foods, and availability and quality of public restrooms.
Gallery