error_outline
All Russia tours for 2022 have been canceled.
North Ossetia, Ingushetia, Chechnya, Dagestan
Overview
Join an adventure to the fascinating North Caucasus region, today experiencing a revitalization of tourism. Discover the ravishing mountain landscapes, medley of cultures, and overflowing hospitality of North Ossetia, Ingushetia, Chechnya, and Dagestan, where mountain tribes have lived in isolation for millennia.
Make your "Return to the North Caucasus" stretch from the Black Sea to the Caspian Sea by adding the optional pre-tour that begins in Sochi and includes the opportunity to meet local people in tiny Mezmay Village, admire the world's largest radio-telescope, and enjoy the fantastic views of the tallest mountain in Europe, Mt. Elbrus. Contact us to discuss your options and to receive the detailed daily pre-tour itinerary.
One of the 2022 departures of this tour will feature special host Michel Behar, who has traveled and led more than 100 tours to every corner of MIR's realm since 1998.
Travels to: Russia
Map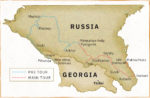 Itinerary
Days 1-2: Mineralnye Vody (Russia), Pyatigorsk

Landing in Mineralnye Vody, transfer to your hotel in Pyatigorsk, one of Russia's oldest health resorts and the administrative center of the region encompassing the North Caucasus republics. Visit the mud baths in nearby Essentuki and the tomb of Russian Romantic poet, writer, wit, and soldier, Mikhail Lermontov.

HIGHLIGHTS

Pyatigorsk, administrative center of the North Caucasian Federal District
Essentuki mud baths
Grave of Mikhail Lermontov, killed at the age of 26 in a duel with another soldier at the foot of nearby Mt. Mashuk

Days 3-5: Tsey, Nalchik, Vladikavkaz (North Ossetia)

Enjoy a thrilling demonstration of proficiency in the wielding of the shashka, the original Circassian saber. Then drive to the mountain resort of Tsey, admiring some of the most spectacular scenery in this region, with craggy peaks, waterfalls, and medieval stone defense towers. Visit the sacred site of Rekom in the Tsey Valley, honoring the most important of the old gods of Ossetia, Uastyrdzhi. Explore the necropolis of Dargavs, sometimes called the "City of the Dead" because of its resemblance to a village of stone houses. In Vladikavkaz, capital of North Ossetia, enjoy a cooking class and sit in on a rehearsal of a traditional dance ensemble.

HIGHLIGHTS

Nalchik, capital of the Kabardino-Balkaria Republic
Off-road drive up the dirt track to Zgid Pass, at 6,500 feet
Sacred site of Rekom, honoring Uastyrdzhi, god of men, warriors, and travelers in the mythology of Ossetian folk religion
Necropolis of Dargavs, nearly 100 medieval tombs and crypts built of stone with stepped slate roofs
Vladikavkaz, capital of North Ossetia and the terminus of the Georgian Military Highway
Local bazaar, cooking class, and traditional dance rehearsal
Performance by vocal ensemble

Days 6-7: Ingushetia, Grozny (Chechnya), Lake Kezenoy-am

Enter the Russian Federal Republic of Ingushetia, a gorgeous mountain region and the smallest of the Russian republics populated mainly by the indigenous Ingush people, who have close ties to the Chechens. Grozny, the ravaged but rebuilt capital of Chechnya, is today a bright place featuring a handsome new mosque, a renovated church, and a pleasant downtown filled with shops and restaurants. Take a night walk around the modern city and meet with one of the city's traditional singing ensembles to hear their songs. Admire alpine Lake Kezenoy-am, the largest lake in the North Caucasus.

HIGHLIGHTS

Beautiful mountainous Ingushetia, whose people are Sunni Muslim
Grozny's central mosque named in honor of Akhmad Kadyrov, the first President of the Chechen Republic
Performance by traditional singers
High-tech new Haja Aymani Kadyrova Mosque
Lake Kezenoy-am, set at 6,000 feet, and shared by Chechnya and Dagestan

Days 8-10: Gunib (Dagestan), Kubachi

Drive into Dagestan, the biggest and the most diverse of the North Caucasus republics, with more than 30 languages spoken. Stop at a mill that produces urbech –made of sesame, pumpkin, and flax seeds. In a series of villages, visit pottery studios, a workshop where women make sheepskin robes for shepherds, and the homes of jewelry makers. Experience Dagestani hospitality in a rustic homestay in the village of Kubachi.

HIGHLIGHTS

Dagestan, the biggest of the North Caucasus republics, spread along the Caspian coast
Lunch in a private village home
Gunib, where Imam Shamil, the 19th century leader of the Chechens and Dagestanis, surrendered to the Russians after a 25-year struggle
Artisan workshop visits
Homestay in Kubachi

Days 11-14: Derbent, Makhachkala

A city of some 120,000, Derbent is the southernmost city in Russia. It is set on a narrow lowland along the Caspian Sea with the Caucasus Mountains barely two miles away. The massive UNESCO-listed Naryn-Kala Fortress dominates the old city. Built by the Sassanian Persians in the 5th century, the immense Naryn-Kala Fortress was in continuous use until the 19th century. Visit the Juma Mosque, built over a Christian church in the 8th century when the Arabs first arrived. Continue to Makhachkala, the capital of Dagestan, a modern town on the Caspian Sea with a lively beach scene.

HIGHLIGHTS

UNESCO World Heritage Sites, the "Citadel, Ancient City, and Fortress Buildings of Derbent"
Juma Mosque, said to be the oldest in Russia
Lunch in the home of a pigeon-breeder
Dagestan Museum of Fine Art
Dates &amp Prices
Small group tour – max 12 travelers
Land tour price, per person. Based on double occupancy and minimum group size of 6 travelers.
What is a Partial Single Supplement?
2023 Dates

July 10 - 23

Michel Behar is scheduled to lead the main tour departure July 10

Tour, double occupancy

$6,795

Partial single supplement

$650
What's Included
Tour Includes

Accommodations, as noted in the itinerary.
Most meals, as noted in the itinerary.
A daily supply of bottled water.
Arrival/departure airport transfers on the tour start/end date. MIR will arrange for all travelers to be met upon arrival and seen off upon departure whether or not we make your flight arrangements.
Ground transportation throughout tour by private van or coach. (Type of vehicle depends on group size.)
Services of experienced, English-speaking local guides, drivers, and other staff, including a MIR Tour Manager.
Guided sightseeing tours and entrance fees, as outlined in the itinerary.
Special events, excursions, and cultural performances, as outlined in the itinerary.
Gratuities to local guides, drivers, and other service personnel, including servers at group meals.
Complete pre-departure information, including detailed packing list, reading list, and Touring with MIR handbook with country-specific information, maps, and travel tips.
Final document packet, including luggage tags, final updates, and more.
Assistance booking your custom flight arrangements, on request. (Please note, international airfare is not included in the land tour cost.)
Customized visa information and instructions. (Please note, visa fees are not included in the tour price.)

Not Included

International airfare and taxes/fuel surcharges.
Meals and drinks not specified as included in the itinerary.
Single supplement (or partial single supplement where applicable), if requested or required.
Gratuities to Tour Manager.
Expenses incurred as a result of delay, modification, or extension of a tour due to causes beyond MIR's control.
Travel insurance, including cancellation, medical, and evacuation insurance.
Visa and/or passport fees, excess-baggage charges, airport departure taxes, vaccination and other medical costs.
Optional pre- or post-tour extensions.
Items of a personal nature, such as phone calls, email, laundry, and alcohol.
Activity Level
Level 4: Rigorous
This intentionally very adventuresome (due to the nature of the destinations) small group tour is only suitable for true explorers: for those with more than an average curiosity and exceptional amounts of flexibility and patience. The program features challenging overland travel including on steep, rough, single-lane mountainous roads using 4WD vehicles, with some very long driving days. Also included are rustic accommodations, some without single rooms or reliable constant electricity. There are also long days walking and standing while touring, time-consuming administrative checks, carrying of your own baggage, unpaved sidewalks and streets, uneven surfaces and steps, absent handrails, significant stair-climbing, and absence of elevators. If you rely on electricity for CPAP, or for any other reason, you must have your own battery or other back-up, or please reconsider participation. Only those very fit to travel and who are willing to accept local standards of amenities and services and the physical challenges of the tour should consider joining. If you are looking for a less adventurous experience, MIR offers other scheduled small group tour options featuring more comfortable accommodation and which do not venture into the remote and undeveloped North Caucasus.
Travelers must be able to walk at least two miles a day, keeping up with fellow travelers on a variety of terrain including through villages, on dirt paths, and the like. Some drives in steep, mountainous conditions with poor-quality roads at elevation and without guardrails may last as long as 12 hours vehicle-time. This program makes use of guesthouses which are extremely basic – toilets are often shared among all group members as are showers, and guesthouses may not have electricity. Some attractions are only accessible on foot via walking or hiking over uneven terrain, while some are only accessible via steep staircases with tall, uneven steps. Furthermore, some sites may involve steep steps inside narrow passageways with limited light. Elevators are not available at touring sites, nor at all of the hotels.
Accommodations will vary widely and will range from two, three, and four-star hotels to a private guesthouse and homestays. In total, one night is spent in a guesthouse or private homestay accommodations. Toilet and shower facilities are shared, and are not en suite to the sleeping quarters. Single rooms are not available for this one night. All travelers, even those paying the partial single supplement, will be matched up with other group members as needed. Some sites visited on the itinerary will require that women wear modest Islamic clothing. When required, outer garments will be provided by the site in question, so there is no need to bring special clothing.
Other challenges include overall shortcomings in the tourism infrastructure of these developing destinations, including some that can cause walking challenges such as unpaved sidewalks, uneven surfaces and steps, packed-dirt streets, broken pavement (streets or sidewalks), and a general absence of handrails or ramps. Past travelers have also encountered challenges with plumbing, bureaucratic service, variety of locally available foods, and availability and quality of public restrooms.
Gallery