error_outline
All Russia tours for 2022 have been canceled.
New Year's in St. Petersburg with Moscow and Suzdal
Overview
Nobody loves New Year's Eve like the Russians do – it's the biggest holiday of the year with parties, presents, and champagne toasts! This festive trip celebrates the New Year in spectacular St. Petersburg, travels to Moscow to explore the capital, and tours the medieval Golden Ring towns of Vladimir and Suzdal, home to the golden cupolas of Russia's first cathedrals. While there, you'll go dashing through the snow on a traditional sleigh ride.
Travels to: Russia
Map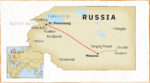 Itinerary
Days 1-5: St. Petersburg (Russia), New Year's Celebrations

You're welcomed to St. Petersburg with an elegant champagne reception on your first night. For four days explore the spectacular palaces, cathedrals, and museums of this 300-year-old imperial capital founded by Peter the Great. Take a backstage tour at one of the city's premier theaters, followed by an evening performance. Ring in the New Year Russian-style with feasting, toasts, and song at a late-night dinner in a local home. After a day of rest and further exploring, board the afternoon express train to Moscow.

HIGHLIGHTS

St. Petersburg's Historic city center, a UNESCO World Heritage Site, decked out in its winter regalia
The Hermitage Museum, one of the world's greatest collections of art
St. Isaac's Cathedral, an engineering wonder filled with art and topped with a dome covered in 220 pounds of gold
The iconic blue, green, and gold cupolas of the Church of the Savior on the Blood
Peter and Paul Fortress, the earliest structure in St. Petersburg and the resting place of 14 czars
Italianate Alexander Palace, where Czar Nicholas II and his family were held under house arrest following the 1917 revolution
A backstage tour of a prestigious theater (possibly the Mussorgsky or Mariinsky), followed by an evening ballet or opera performance
A festive New Year's dinner at a local home

Day 6: Moscow

Experience Russia's bustling capital at its most graceful and serene, draped in a blanket of snow. On your day here visit UNESCO-listed Novodevichy Convent and the extensive Russian art collection at Tretyakov Gallerty, and in the evening attend a performance at the Tchailovsky Conservatory. (You'll return to Moscow at the end of the itinerary to tour Red Square and other sights.)

HIGHLIGHTS

16th century Novodevichy Convent, with its beautiful Smolensk Church and a cemetery full of Russian luminaries including Gogol, Chekhov, Khrushchev, and Yeltsin
Tretyakov Gallery's all-encompassing collection of Russian art, with works dating from the 11th century to the present
A classical concert at the Great Hall of the Tchaikovsky Conservatory

Days 7-10: Vladimir, Suzdal, Moscow

Some 120 miles east of Moscow, along the Gold Ring of historic cities, visit neighboring Vladimir and Suzdal, where eight exceptional limestone structures from the 12th and 13th centuries have been collectively honored as the "White Monuments" on UNESCO's World Heritage list. Along with seeing the sights, take a traditional sleigh ride and have dinner in a Suzdal family's home. After two nights, return to Moscow to tour Red Square, including a visit to the Armory Museum, and then head underground to explore some of the renowned Moscow Metro stations.

HIGHLIGHTS

The golden domes of Vladimir's 12th century Cathedral of the Assumption
Suzdal's Monastery of St. Euphinius and Cathedral of the Nativity, both exceptionally well preserved examples of 12th century Russian architecture
A classic Russian sleigh ride
The chance to attend morning service at an Orthodox church in Suzdal
Moscow's centerpiece, Red Square, flanked by the massive Kremlin and iconic St. Basil's Cathedral
A tour of the Kremlin's Armory Museum, a storehouse of Russia's national treasures
The extravagantly decorated Moscow Metro stations, known as "underground palaces"
Dates &amp Prices
Small group tour – max 16 travelers
Land tour price, per person. Based on double occupancy and minimum group size of 4 travelers.
2023 Dates

Tour, double occupancy

$6,195
What's Included
Tour Includes

Accommodations, as noted in the itinerary.
Most meals, as noted in the itinerary.
A daily supply of bottled water.
Arrival/departure airport transfers on the tour start/end date. MIR will arrange for all travelers to be met upon arrival and seen off upon departure whether or not we make your flight arrangements.
Ground transportation throughout tour by private van or coach (type of vehicle depends on group size.), and high-speed day train St. Petersburg-Moscow.
Services of experienced, English-speaking local guides, drivers, and other staff, including a MIR Tour Manager.
Guided sightseeing tours and entrance fees, as outlined in the itinerary.
Special events, excursions, and cultural performances, as outlined in the itinerary.
Gratuities to local guides, drivers, and other service personnel, including servers at group meals.
Complete pre-departure information, including detailed packing list, reading list, and Touring with MIR handbook with country-specific information, maps, and travel tips.
Final document packet, including luggage tags, final updates, and more.
Assistance booking your custom flight arrangements, on request. (Please note, international airfare is not included in the land tour cost.)

Not Included

International airfare and taxes/fuel surcharges.
Meals and drinks not specified as included in the itinerary.
Single supplement (or partial single supplement where applicable), if requested or required.
Gratuities to Tour Manager.
Expenses incurred as a result of delay, modification, or extension of a tour due to causes beyond MIR's control.
Travel insurance, including cancellation, medical, and evacuation insurance.
Visa and/or passport fees, excess-baggage charges, airport departure taxes, vaccination and other medical costs.
Optional pre- or post-tour extensions.
Items of a personal nature such as phone calls, email, laundry, and alcohol
Activity Level
Level 3: Medium
This small group tour features significant amounts of touring on foot, a few long days of overland travel, cold weather, icy and/or wet walking surfaces, and possible challenges of changes due to travel around festive holiday times. While Moscow and St. Petersburg are quite highly developed, shortcomings in the tourist infrastructure will be more noticeable in the Golden Ring. Only those fit to travel and who are willing to accept local standards of amenities and services, and the physical challenges of the program, should consider joining. 
Travelers must be able to walk at least a mile a day while keeping up with fellow travelers. Be prepared for a few long days in the vehicle as several days entail driving more than 100 miles. The weather will be cold and likely wet and icy, with other shortcomings in the tourism infrastructure that can cause walking challenges such as uneven surfaces and steps, and a general absence of handrails or ramps. Elevators are not available at touring sites, nor at some hotels.
Past travelers have also encountered challenges with bureaucratic service and availability and quality of public restrooms. 
Accommodations generally range from superior to deluxe class, with accommodations in Suzdal best available but not up to the same standards of the larger cities. 
Gallery