error_outline
Russia tour sales suspended
Moscow, the Golden Ring and St. Petersburg
Overview
On this exploration of European Russia, MIR's local guides show you its two great cities and lead you on a tour around the Golden Ring, a collection of picturesque old towns that form a loop through the countryside. You'll experience the contrasting characters of bustling Moscow and elegant St. Petersburg, and get a sense of Russia's Slavic roots along the Golden Ring, which is dotted with historic kremlins, monasteries, and some of the country's oldest and most beautiful churches.
Travels to: Russia
Map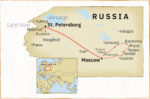 Itinerary
Days 1-2: Moscow (Russia)

Begin your tour of Moscow with a drive up to Sparrow Hills for a panoramic view of the city and a stop at UNESCO-listed Novodevichy Convent, home to Russia's most illustrious cemetery. Then visit the heart of the city, Red Square, and the sights that surround it. Take in the domes of Russia's most famous church, St. Basil's Cathedral; explore the massive Kremlin, the center of Russian politics; tour the Armory Museum, a storehouse of national treasures; and browse through GUM, a historic shopping arcade.

HIGHLIGHTS

Novodevichy Convent, a showcase of Russian baroque architecture with a cemetery holding the graves of Russian luminaries such as Gogol, Chekhov, Khrushchev, and Yeltsin
The 850-year-old Kremlin and Red Square, a UNESCO World Heritage Site
The colorful domes of iconic St. Basil's Cathedral
The treasures of the Armory Museum, from Faberge eggs to the ivory throne of Ivan the Terrible
Window shopping at GUM

Days 3-4: Vladimir, Suzdal, Plyos

Begin your tour of the Golden Ring, which loops north and east of Moscow. Stop first in Vladimir, founded in 1108 by the last great Kievan prince, Grand Duke Vladimir Monomakh. The gilded domes of its 12th century Cathedral of the Assumption were an indication of the city's exalted status at the time. From there it's on to Suzdal, a town distinguished by its exceptionally well-preserved architecture dating back to the 12th century. The historic buildings of the area are collectively designated a UNESCO World Heritage Site under the title "White Monuments of Vladimir and Suzdal." En route to an overnight in Kostrama, make a stop in Plyos, a tiny, charming town known as the "Pearl of the Volga" that gained renown in the 19th century as an artists' retreat. Have lunch here in a private home.

HIGHLIGHTS

The blue-and-gold gilded domes of Vladimir's Cathedral of the Assumption
The graceful little Church of the Intercession on the Nerl, one of the UNESCO-listed "White Monuments"
Suzdal's kremlin, which encompasses several well-preserved churches and other historic buildings
Experiencing Russian hospitality at lunch in a private home in Plyos

Days 5-7: Kostroma, Yaroslavl, Rostov, Sergiev Posad, Fedoskino

Continue around the Golden Ring with a stop in Kostroma, once Russia's third-largest city. When it burned to the ground in 1773, Catherine the Great seized the opportunity to rebuild it as a showpiece of enlightened design principles. Across the Kostroma River from the city's main square is St. Ipaty Monastery, considered by the Romanov family to be its personal sacred space. Follow the path of the Volga River to Yaroslavl, where the Old Town's palace, fortress, and green-and-white domed churches have earned it a UNESCO listing.

The following day tour Rostov, one of Russia's oldest and most beautiful towns, with an immense 17th century kremlin that's also UNESCO-listed. On the way back to Moscow, get an introduction to classic Russian crafts at two locations, the Museum of Lacquer Miniatures in Fedoskino and a matrioshka (nesting doll) factory in Sergiev Posad. Sergiev Posad is also home to the Trinity St. Sergius Lavra monastery, a UNESCO-listed site that's deeply intertwined with the history of Russia and continues to be an important center of the Russian Orthodox Church.

HIGHLIGHTS

Kostroma's city plan, designed to follow principles championed by Catherine the Great
The many features of St. Ipaty Monastery, including Trinity Cathedral, the Romanov family chambers, the Museum of Wooden Architecture, and a five-tiered bell tower
The beautiful artwork of Yaroslavl's historic churches, including the brilliant frescoes of the Church of Elijah the Prophet and the tiled façade of the Church of the Epiphany
Immense Rostov Kremlin, built in the 17th century from more than 20 million bricks
The meticulous artistry on display at Fedoskino's Museum of Lacquer Miniatures and Sergiev Posad's nesting doll factory
The rich history of Sergiev Posad's Trinity St. Sergius Lavra monastery, where St. Sergius blessed soldiers fighting the Golden Horde and Ivan the Terrible paid monks to pray for him

Days 8-11: St. Petersburg

Board an express train from Moscow to St. Petersburg, Peter the Great's imperial capital and one of the world's most beautiful cities. Your guide will show you its classic sights, including historic Peter and Paul Fortress, ornate Usupoff Palace, the intricately designed Church of the Savior on the Blood, and the Hermitage, a splendid palace transformed into one of the largest and finest art museums in the world. On one evening you'll attend a performance at one of the city's illustrious theaters.

Outside of the city, get a taste for imperial extravagance at some of Russia's grandest estates. Tour the elaborate gardens and palace of Peter the Great's summer home, Peterhof, built on a scale to rival Versailles. Take in the view from Monplaisir, designed by Peter as a retreat where he could look out onto the Gulf of Finland. And admire the remarkable restoration of Catherine's Palace – built in 1717, expanded to monumental grandeur in 1752, and almost totally destroyed by the Nazis during WWII.

HIGHLIGHTS

Peter and Paul Fortress, one of the earliest structures in St. Petersburg
Opulent Usupoff Palace, where the plot against Rasputin came to fruition
The intricate design and brilliant colors of the Church of the Savior on the Blood
The Hermitage Museum, home to the world's second-largest art collection (after the Louvre), with works by Michelangelo, Raphael, Rembrandt, Titian, and Van Gogh, among scores of other masters
The more than 150 fountains and cascades that adorn the Lower Park of Peterhof, Peter the Great's summer estate
Peter's favorite palace, Monplaisir, from where he watched ships passing on the Gulf of Finland
The beautifully restored Amber Room at Catherine's Palace
Dates &amp Prices
Small group tour – max 16 travelers
Land tour price, per person. Based on double occupancy and minimum group size of 4 travelers.
2023 Dates

Tour, double occupancy

$6,695
What's Included
Tour Includes

Accommodations, as noted in the itinerary.
Most meals, as noted in the itinerary.
A daily supply of bottled water.
Arrival/departure airport transfers on the tour start/end date. MIR will arrange for all travelers to be met upon arrival and seen off upon departure whether or not we make your flight arrangements.
Ground transportation throughout tour by private van or coach. (Type of vehicle depends on group size.)
Services of experienced, English-speaking local guides, drivers, and other staff, including a MIR Tour Manager.
Guided sightseeing tours and entrance fees, as outlined in the itinerary.
Special events, excursions, and cultural performances, as outlined in the itinerary.
Gratuities to local guides, drivers, and other service personnel, including servers at group meals.
Complete pre-departure information including detailed packing list, reading list, and Touring with MIR handbook with country-specific information, maps, and travel tips.
Final document packet including luggage tags, final updates, and more.
Assistance booking your custom flight arrangements, on request. (Please note, international airfare is not included in the land tour cost.)
Customized visa information and instructions. (Please note, visa fees are not included in the tour price.)
Business-class train tickets from Moscow to St. Petersburg, and Hydrofoil tickets from St. Petersburg to Peterhof.

Not Included

International airfare and taxes/fuel surcharges.
Meals and drinks not specified as included in the itinerary.
Single supplement (or partial single supplement where applicable), if requested or required.
Gratuities to Tour Manager.
Expenses incurred as a result of delay, modification, or extension of a tour due to causes beyond MIR's control.
Travel insurance, including cancellation, medical, and evacuation insurance.
Visa and/or passport fees, excess-baggage charges, airport departure taxes, vaccination and other medical costs.
Optional pre- or post-tour extensions.
Items of a personal nature such as phone calls, email, laundry, and alcohol.
Activity Level
Level 3: Medium
This small group tour features long days walking and standing while touring, some stair climbing, and some longer days in the vehicle. Only those fit to travel and who are willing to accept local standards of amenities and services and the physical challenges of the program should consider joining.
Travelers must be able to walk one to two miles a day keeping up with fellow travelers, sometimes on uneven surfaces. There are overall shortcomings in the tourism infrastructure of this destination, including some that can cause walking challenges such as uneven sidewalks, surfaces, and steps, and a general absence of handrails or ramps. Some attractions are only accessible via steep staircases with steps. Elevators are not available at touring sights.
Past travelers have also encountered challenges with plumbing, bureaucratic service, and availability and quality of public restrooms.
Gallery
Video