7 Discoveries Made While Exploring Villages of the South Caucasus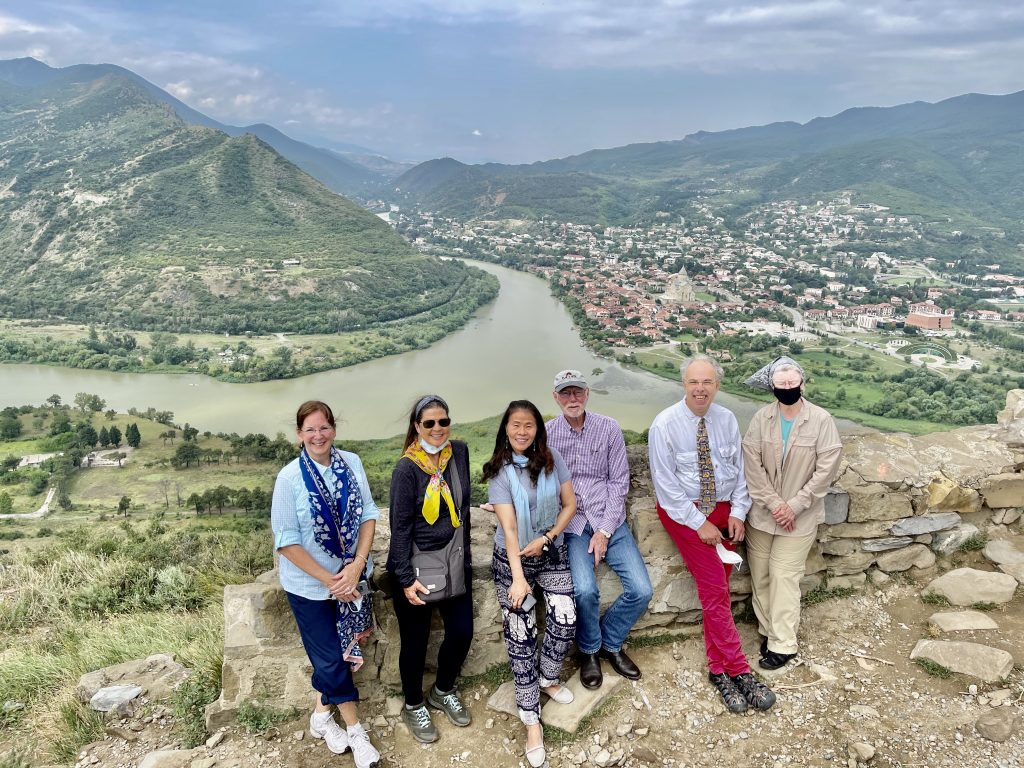 Michel Behar, one of MIR's most experienced and popular tour managers, recently led the July/August 2021 departure of MIR's small group tour, Village Traditions of the South Caucasus. Here, Michel reviews highlights from the tour and gives insights on why you, too, should delve deeper into the villages and traditions of this amazing region.
---
The South Caucasus are incredibly diverse. While divided between just three countries (Armenia, Azerbaijan, and Georgia), the area is home to dozens of languages, most of which are not even remotely mutually intelligible. These languages are spoken by adherents of myriad religions: Armenian, Georgian, and Russian Orthodox Christians; Jews with origins in ancient Persia; and Sunni, Sufi, and Shi'ite Muslims. This mix of languages and religions, courtesy of the jagged mountains that separate one fertile valley from the next, are paralleled by a wide variety of traditions, foods, and stories.
Even the geography of the region is diverse. Over the course of our three-week tour we visited two of the three countries in the region: Georgia and Armenia. Azerbaijan had not yet reopened for travel. Between those two countries we were able to visit a range of spectacular areas. We explored the verdant Black Sea coast, which is lush with tea plantations and subtropical forests. We ventured high up into rugged mountains, surrounded by snowy peaks and craggy rocks. We stayed in a scattering of classy and historically rich cities. And we enjoyed the scenery and produce in agricultural lands where grapes are grown for the region's fantastic wines and cows are pastured for the amazing cheeses produced all over the area.
There is SO much to see and experience here that to do justice to the region one really needs to spend at least three weeks exploring it. That is why MIR offers multiple signature small group tours through the region including the one I just led, which focuses on smaller villages and rural regions. We also offer another three-country tour – Treasures of the South Caucasus – which highlights the cities and towns in a fifteen-day format, as well as an eighteen-day journey that ties Turkey in with the region called Eastern Turkey & Georgia: Crossroads of Ancient Civilizations.
Our tour was packed with culinary delights, cultural treasures from the past 4,000 years, 4WD mountain adventures, and even hiking for those who were up for it.  All are good reasons to come for a first (or second!) exploration of the region.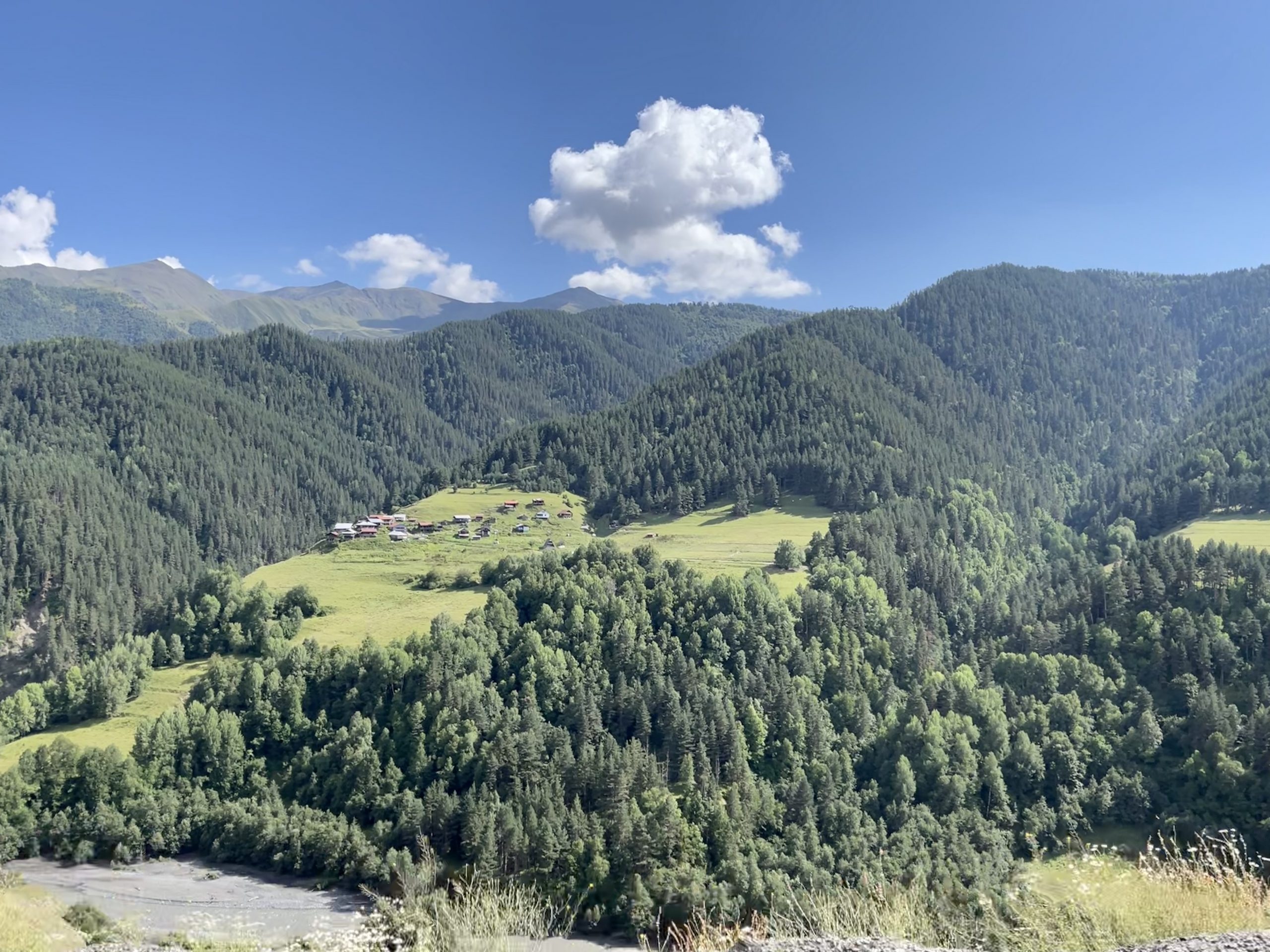 Here Are My 7 Favorite Discoveries:
1. Authentic Cuisine
---
(click image to view larger photo)
The people of the Caucasus take their food seriously. The variety of authentic dishes we had in Georgia, in particular, is without precedent in my experience. We had a supra (a traditional, festive meal with wine and multiple courses) twice a day, avoiding the more touristy places in favor of traditional establishments catering to locals. Well-designed wine pairings featuring local varietals, some of them naturally fermented and unfiltered, are often a feature of these meals, alongside locally-brewed beer and chacha (a Georgian grappa).
While Georgia is something of a culinary star, the good food continues in Armenia with freshly baked lavash (local flatbread) and world-class brandy. When visiting a modern bakery on the way to Yerevan, we saw bakers baking loaves of bread by literally diving into tonirs (brick ovens). We couldn't stop taking photos.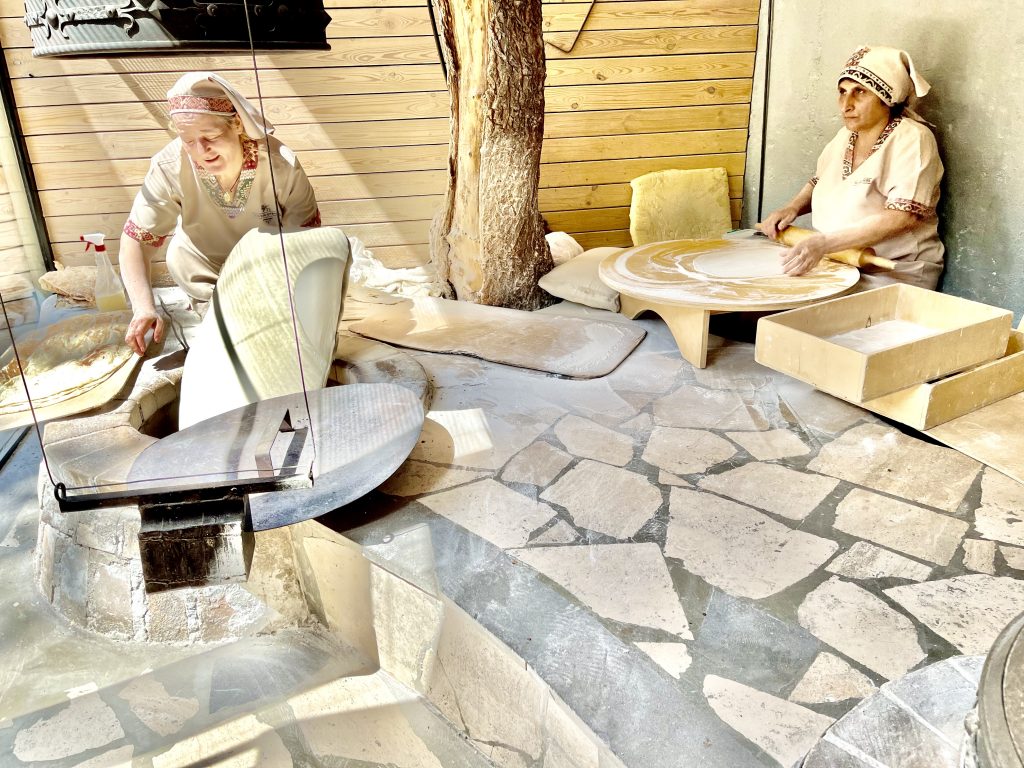 Some of the amazing dishes we tried on this journey included yoghurt soup, ghomi (Georgian polenta), sauteed wild mushrooms, fried potatoes with tkmali (a sour plum sauce), roasted wheat, rice pilaf, lamb and beef stews with pomegranate sauce or adjika (a spicy, chili pepper-based sauce), chicken in walnut and sour cherry sauce, and various types of fish from both the rivers and the Black Sea. The list goes on!
(click image to view larger photo)
2. Spectacular Fruits and Vegetables
---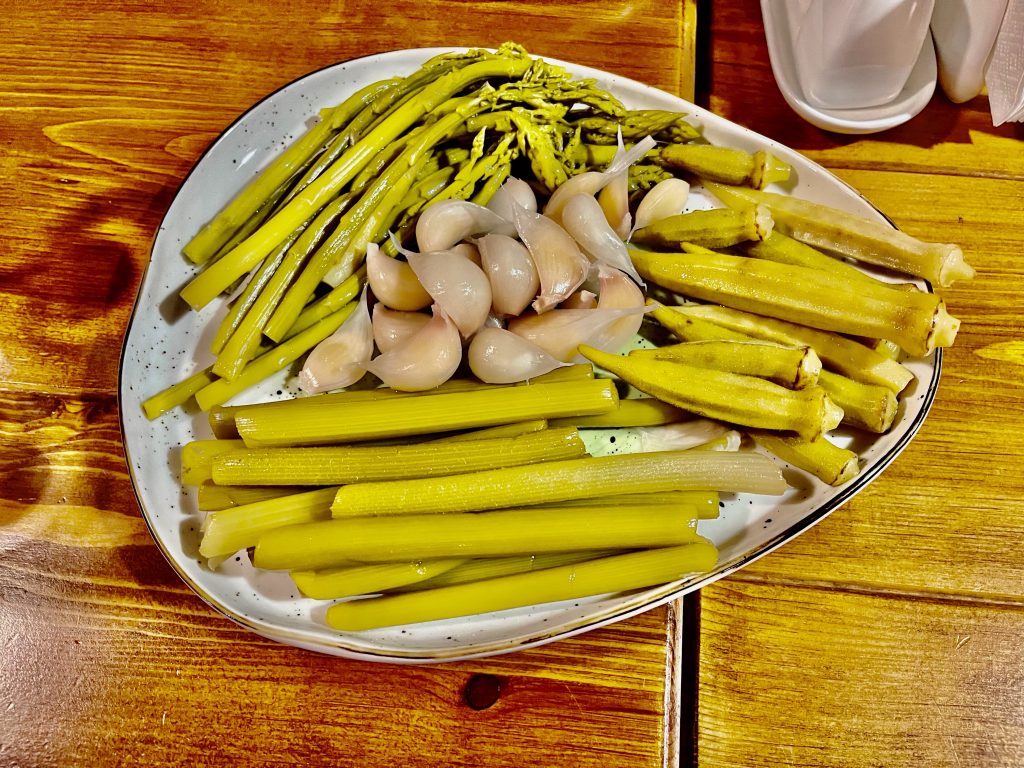 The produce throughout the region is amazing. Many of my fellow travelers noted that they had never tasted such tasty tomatoes and cucumbers. Over the course of the journey, we tried various dishes featuring beans, beetroot, zucchini, eggplant, cauliflower, green beans, fennel, artichokes, and garlic shoots. Our tables were often adorned with a range of tasty and diverse pickles, including an unusual okra pickle on one occasion.
(click image to view larger photo)
In the summer there's also an abundance of fresh fruit. Mulberries, grapes, melons, apricots, and figs (amidst countless others) are popular here. In Armenia we tried t'tu lavash – a cooked fruit puree that is poured on a tray in a very thin layer and left to dry in the sun for a few days, similar to a fruit roll-up in the U.S. This is also popular in Georgia, where it is known as tklapi.
3. Genuine Hospitality
---
As mentioned above, the people of the Caucasus take their food seriously. They also take hospitality seriously, and we experienced warm welcomes and generosity every day of the trip.
The trip features several visits to local homes and family-owned wineries and farms – the best places to try truly local food. Proprietors are proud of what they produce and are eager to share their traditions.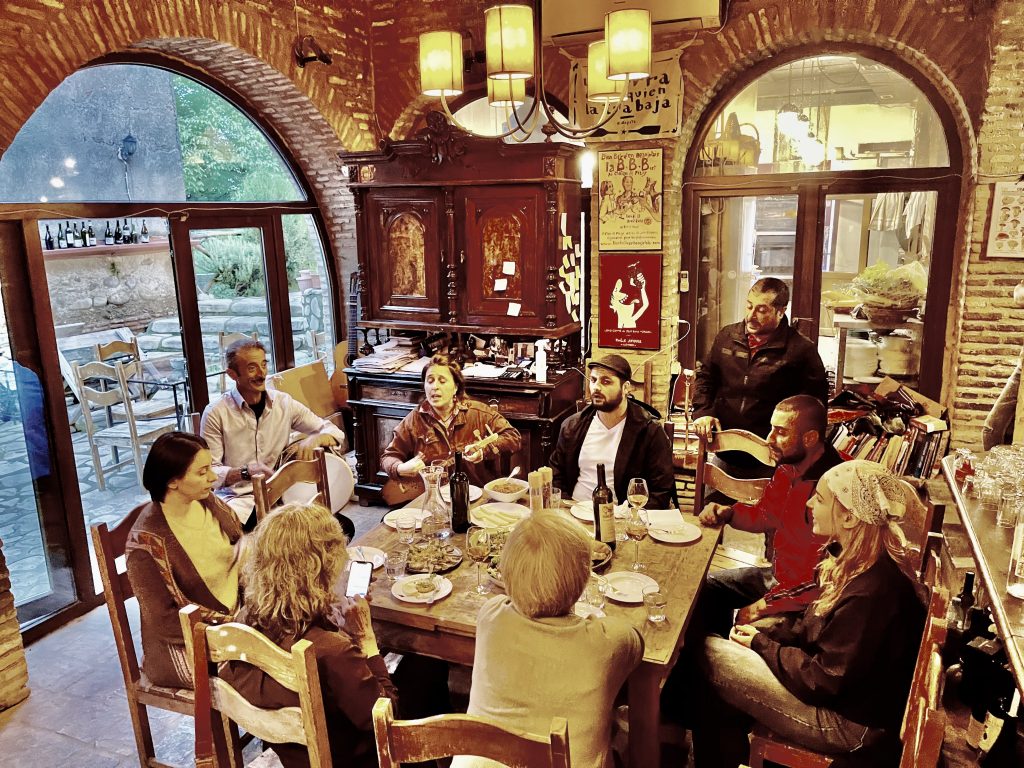 In Samegrelo we tried authentic Megrelian food and wine at the Oda Winery, hosted by the owners. On our drive from the mountainous Tusheti region back to Tbilisi, we stopped off at a local dairy farm where the owner was all too happy to show us around and let us sample his cheeses. In Svaneti we visited a local family's home and tried home-cooked Svan delicacies. On the Armenian border, we visited a group of descendants of 19th century Russian pacifists and were treated to traditional Russian cuisine.
(click image to view larger photo)
One particularly memorable highlight was being hosted at the farmstead of Lamara Bezhashvili, in the small Kakhetian village of Magaro. Lamara raises silkworms, rabbits, sheep, chickens, and goats. She prides herself on her encyclopedic knowledge of local herbs and their uses. We were served a 15-course (!) meal of Kakhetian favorites, using ingredients almost entirely from her personal garden.
4. Interesting and Beautiful Hotels
---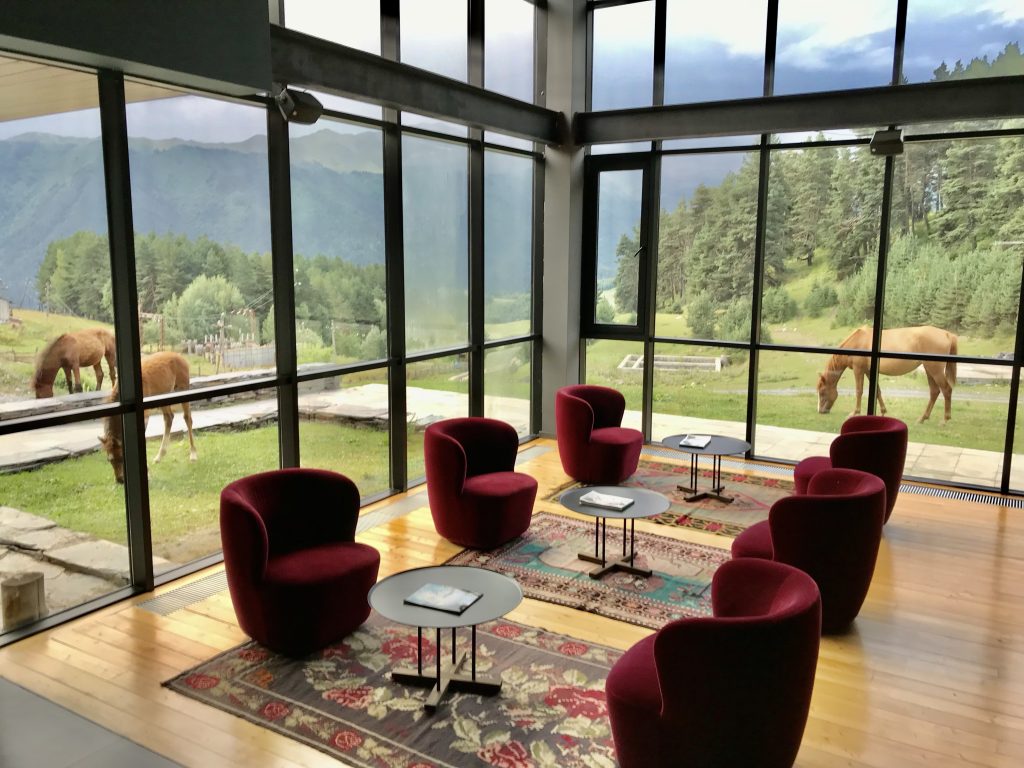 Though this trip focuses on smaller villages and the countryside, the accommodations proved excellent. The hotel scene has improved dramatically in the region over the past decade, in both the cities and beyond.
In the Georgian capital of Tbilisi, we stayed in a historic downtown villa. In the mountains of Mestia, Svaneti, and Tusheti, we found ourselves in comfortable well-situated hotels where in years past one would have found only basic guesthouses and homestays. In downtown Batumi, we stayed in a 19th century hotel that reminded us of a palace. In Vardzia, our hotel was a beautiful resort surrounded by spacious gardens. We even ran into the U.S. Ambassador at dinner there one evening!
5. Fortified Towns
---
The Caucasus have been prone to wars and invasions over the centuries, and this history has resulted in a range of fortifications in and around its villages and towns. The watchtowers of Svaneti are probably the most famous, and most photogenic, of these fortifications. They are definitely worth the drive up into the mountains.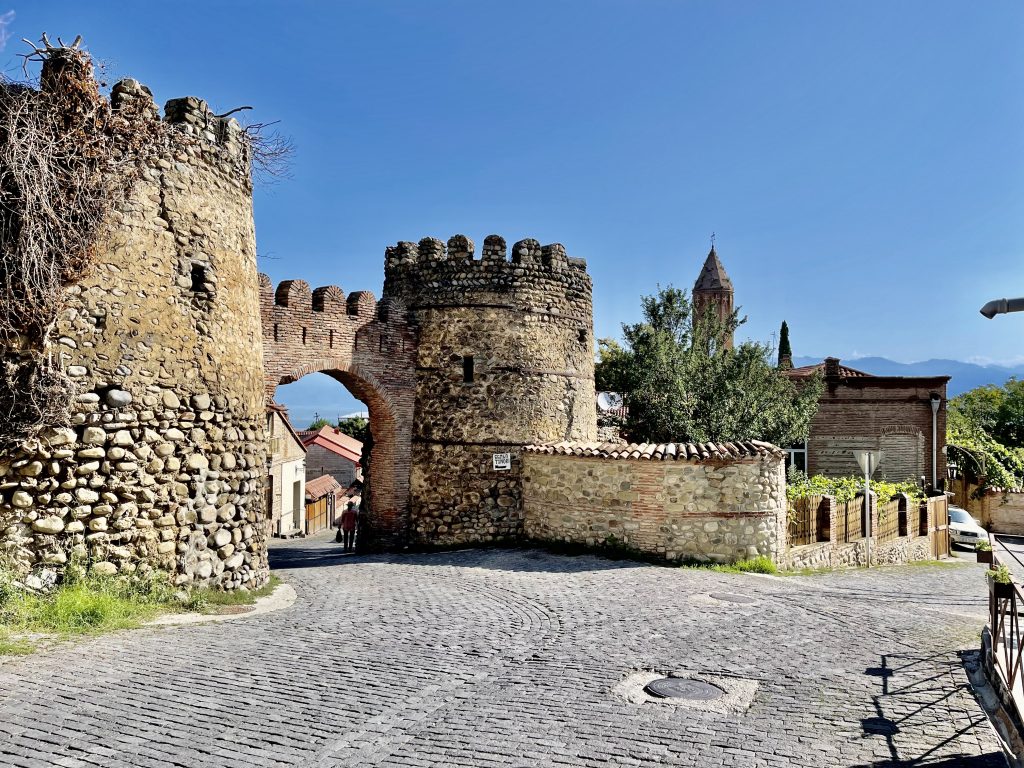 Lower down, the fertile valleys of Kakheti were often attacked by Persian, Chechen, and Avar armies. We stayed in the fortified town of Signagi, in eastern Georgia, whose walls once protected the town from these invaders. Today they provide the city with a scenic backdrop, backed farther out by agricultural plains and the high Caucasus.
(click image to view larger photo)
The region of Samtskhe-Javakheti in southern Georgia boasts a number of old fortresses, some dating back to the Mesolithic. The fortress in Akhaltsikhe was built in Hellenistic times, and its foundations are still clearly visible. The well-preserved Rabati Castle was built on top of it in the 9th century. We passed the scenic Khertvisi Fortress on the way from Vardzia to the Armenian border. This fort was built in the 10th century and later used by the Ottomans. Ancient agricultural terraces and megalithic structures can be found in the area.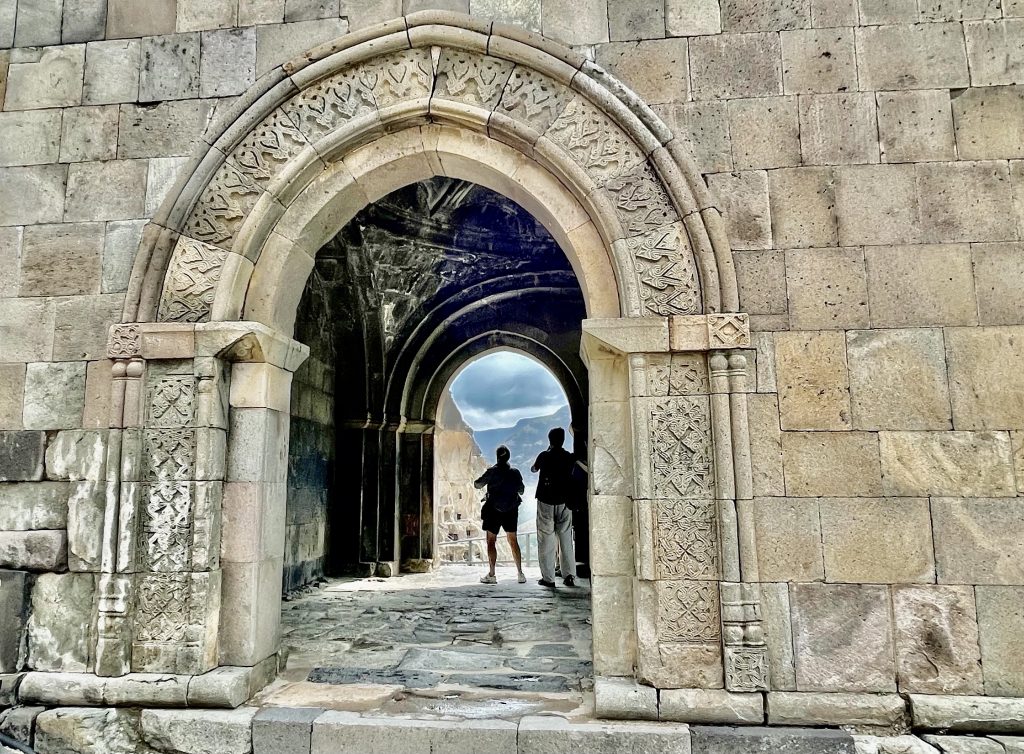 6. The Mountains
---
The Caucasus have made this region what it is, serving as barriers to communication and movement for centuries. They are formidable – and beautiful. We spent time in two seldom-visited mountainous regions in Georgia: Tusheti and Svaneti.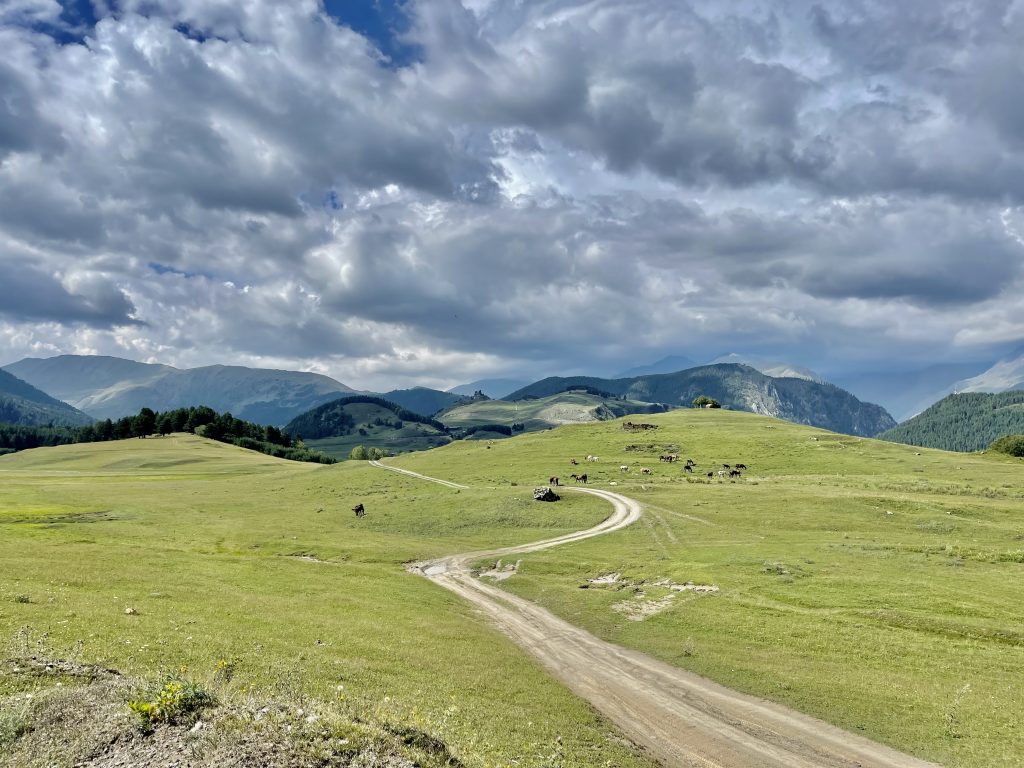 People have lived for thousands of years in Tusheti, traveling by horse across the mountains in this far northeastern province of Georgia. While we used 4WD vehicles in lieu of horses, the region still feels remote and untouched. Even today, it can only be accessed by one unpaved road. Until the 1970s there was just a horse trail. When we stopped on the 10,000-foot Abano Pass, we ran into Azeri sheep traders who still buy sheep there and then walk down (a journey of four days) to sell them in Azerbaijan.
(click image to view larger photo)
Svaneti is almost as remote as Tusheti, but located on the other side of Georgia, in the northwest. The watchtowers and craggy mountains are the main highlights here. On the way to the small, regional capital of Mestia we had a perfect view of Mt. Ushba, which at over 14,000 feet is Georgia's fourth highest mountain. We also got to spend some time learning about traditional Svan culture. We visited a 13th century machubi (a traditional Svan home) with surprisingly spacious and comfortable living quarters for people – and cattle! There was a more austere dwelling built on top of it, with a watchtower connected.
(click image to view larger photo)
The Svans have been around for a long time. Their endangered language retains a range of archaic features lost in related dialects. Svaneti supplied Colchian goldsmiths with gold, allegedly collected with troughs pierced with holes and lined with sheep skin, the so-called Golden Fleece. Both Pliny and Strabo refer to the Svans in their writings, though we have no evidence they ever visited the region.
In the remarkably modern regional museum, we found treasures ranging from traditional wooden furniture to ancient Greek gold coins minted in Colchis. We learned about the co-existence of pagan and Christian rituals. The museum features medieval holy manuscripts and icons alongside a giant cauldron used for cooking sacrificed animals.
7. Urban Variety
---
(click image to view larger photo)
While the tour focuses on villages, we did of course spend time in the larger cities and towns as well. Tbilisi is the cosmopolitan capital of Georgia. The city is named after its sulfur baths, which date back to the 3rd century or perhaps earlier. These sulfur baths are still in use today. A nearby museum displays Roman artifacts found on the spot, testifying to the area's deep history. Despite the tides of modern development, the city has retained many fine examples of traditional Georgian architecture. The city is also home to several monumental Soviet buildings. We stood in awe at the Chronicles of Georgia, a giant 50-foot-high monument dedicated to 1,700 years of Christianity and 2,400 years of literacy. This monument was built in the 1970s by the Soviet authorities.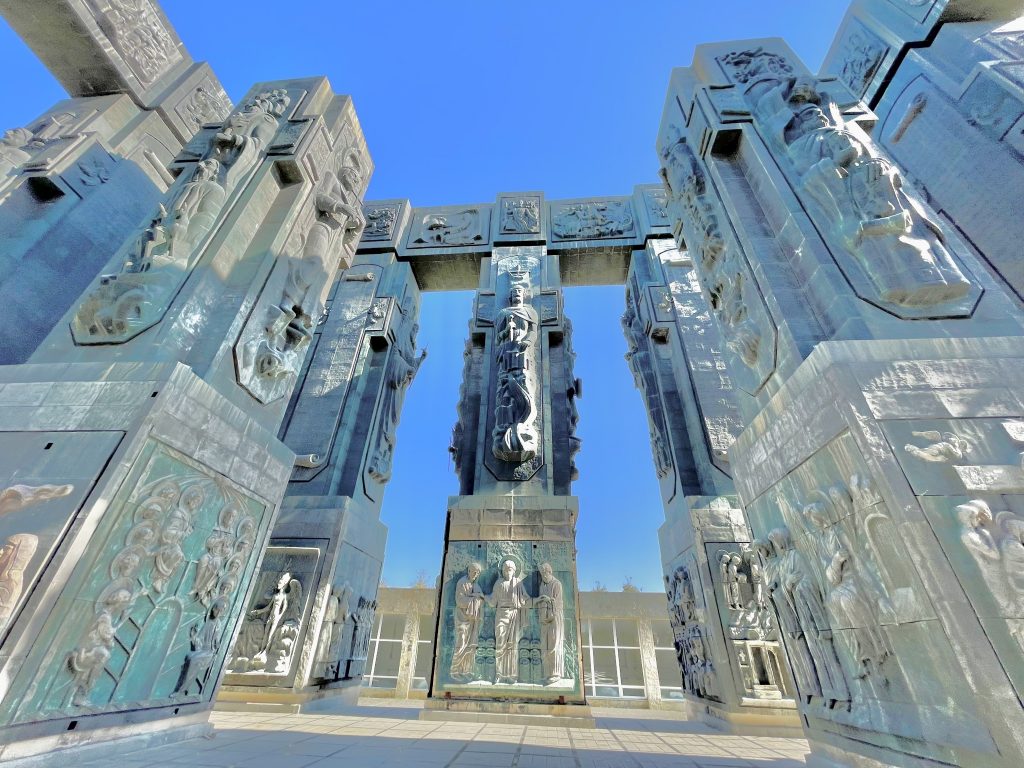 We also visited Kutaisi, the old capital of Georgia during the Middle Ages and one of the oldest cities in the world. Kutaisi was the capital of Hellenistic-era Colchis (which we know from Jason and the Argonauts) and the residence of King Aeëtes. This is arguably the most Georgian of Georgian cities, boasting a vibrant historical town and a rich cultural life. Many writers and poets call Kutaisi home. One of our group members commented that its opera house is larger than the one in San Francisco.
(click image to view larger photo)
On our evening stroll in Kutaisi, we were amazed at how many families were out with children, crossing the pedestrian-only White Bridge and having photos taken at the marvelous Colchis Fountain, which is adorned with giant replicas of precious historical artifacts. One of Kutaisi's highlights is the almost 1,000-year-old Gelati Cathedral, home to Georgia's first center of learning and the grave of King David the Builder. 
(click image to view larger photo)
We also visited Batumi, an important Greek and later Roman city that is on the Black Sea coast. A Greek minority persists here to this day. Batumi is also home to many Muslims, a result of the long Ottoman occupation of the city. More recently, after the end of WWI, the city was briefly occupied by British forces. The city is home to a unique blend of preserved historical architecture and modern, glitzy casinos and beach resorts.
In Armenia my biggest surprise was Gyumri. Gyumri is the country's second largest town. Despite being heavily damaged in an earthquake it 1988, it is now a very pleasant place with a rich cultural life. After the earthquake the city was rebuilt with an eye to preserving its distinct 19th century Armenian urban style. Interestingly, the city has hosted a continuous Russian military presence since 1837.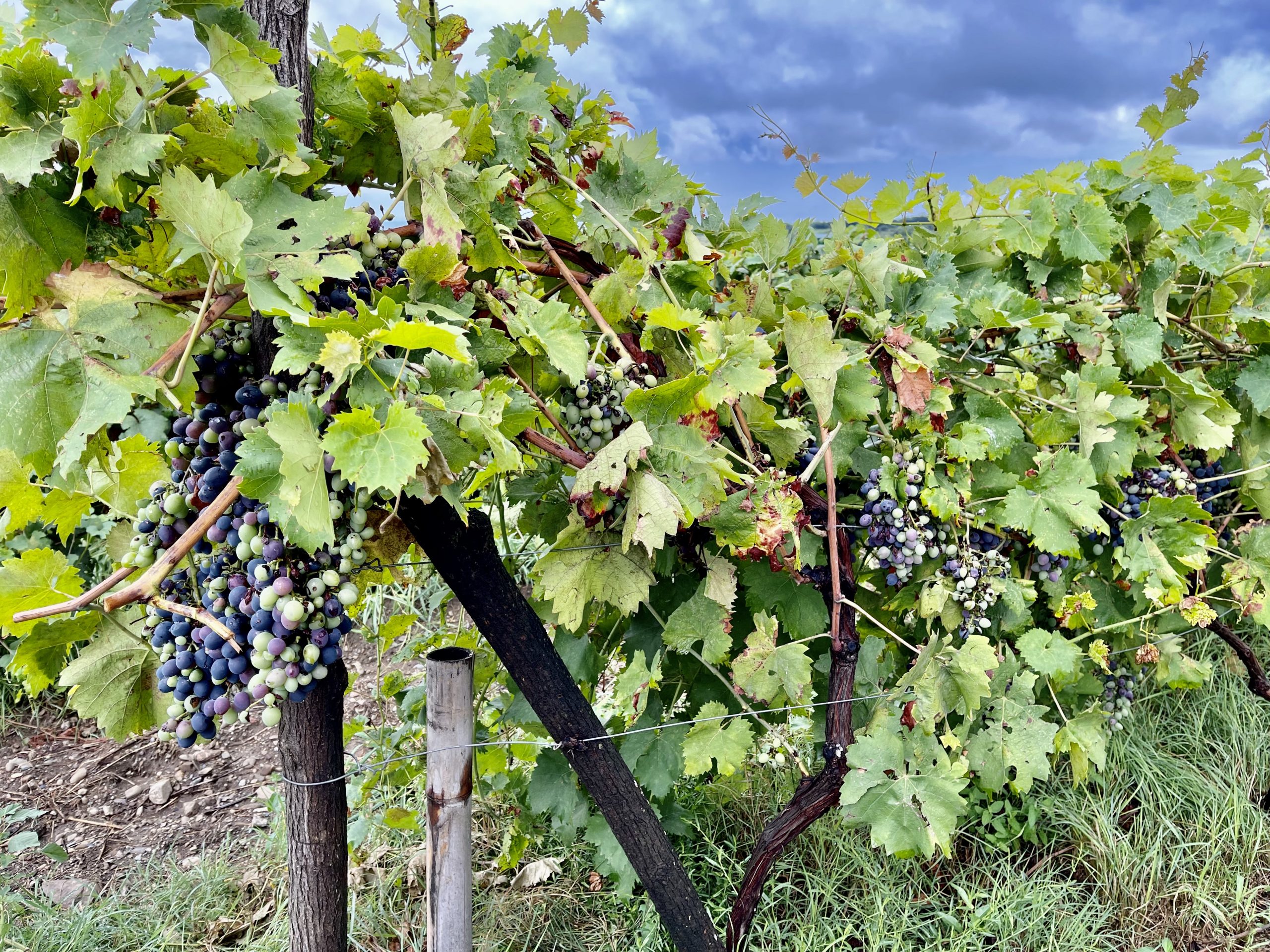 Travel to the South Caucasus with MIR
MIR has more than 30 years of unmatched destination expertise and travel planning experience, hand-crafting tours to the South Caucasus since 1986. You can sample the food, wine, song, culture, and scenery of this region on MIR's Village Traditions of the South Caucasus tour.
Or fall in love with the South Caucasus countries of Georgia, Armenia, and Azerbaijan on one of these small group tours:
You can visit the South Caucasus on a rail journey by private train, as well. Hop aboard the Caspian Odyssey by Private Train rail journey, which travels between the Caucasus region and Central Asia. 
You can also chose one of MIR's private independent trips to travel on your dates and at your pace, or on a completely customized private journey tailored to your desired dates, interests, and style.
Chat with one of our destination specialists now!