Silk Road Tour Spotlight: Journey Through Central Asia (video)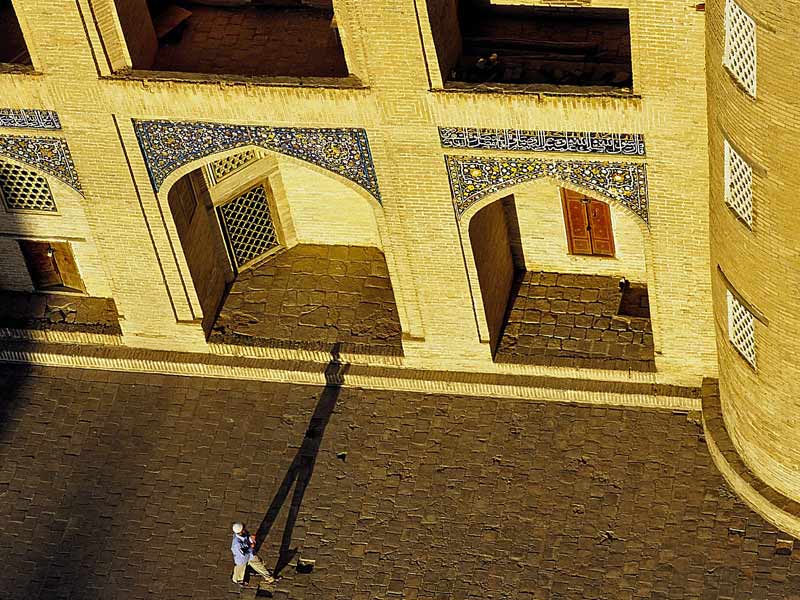 One of MIR's best-loved and well-known group tours, Journey Through Central Asia: The Five 'Stans, explores a part of the world many know only from fairy tales or history lessons about the Old Silk Road. Dubbed "the five 'Stans" – Kazakhstan, Kyrgyzstan, Tajikistan, Turkmenistan and Uzbekistan – these Central Asian countries linked the great trade routes between Europe and China more than 2,000 years ago. Result: an exotic mix of foreign cultures, customs, architecture and religions.
This comprehensive video takes a visual deep dive into what travelers can see, hear, and experience on MIR's iconic group tour, Journey Through Central Asia: The Five 'Stans:
Each of the five 'Stans is unique in its own history, culture and customs. Here are just a few of our favorite things to do and see in each country on MIR's tour, Journey Through Central Asia:
Kazakhstan
---
"Capital of Apples"
Once home to nomads and horses, Kazakhstan is the largest and richest of the five 'Stans. The country's former capital, Almaty, is known as the "capital of apples," because it's believed apples first originated here. Today it's a thriving city nestled into the Tien Shan Mountains.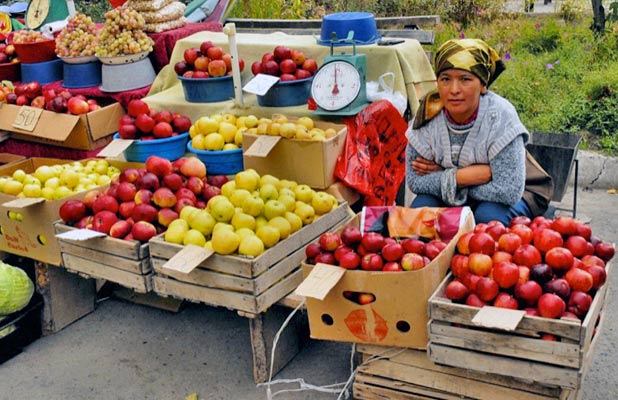 Zenkov Cathedral
Almaty is famous for its 170-foot-tall wooden Zenkov Cathedral – an explosion of color from czarist times. The Russian Orthodox cathedral was built to withstand earthquakes, using techniques that were innovative and daring at the time.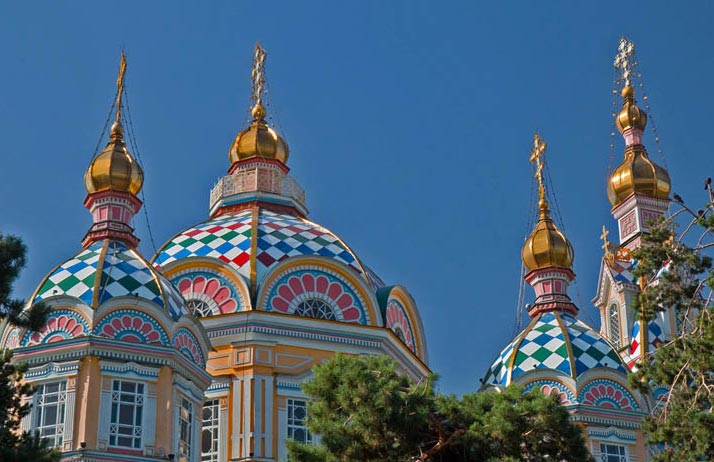 Kazakh Falconry
A falcon farm outside of Almaty is where Kazakhs hunters in traditional costumes demonstrate how these beautiful birds have been used in hunting for centuries.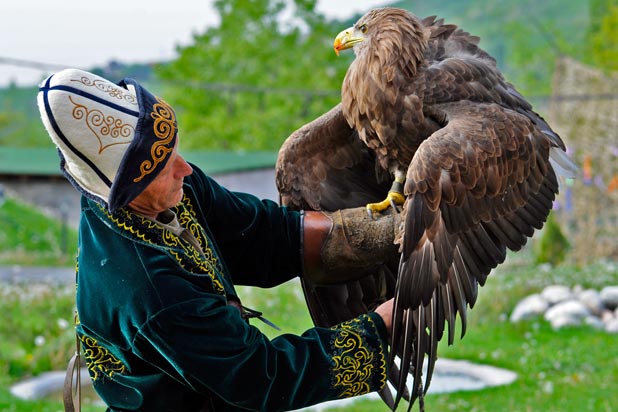 (click image to view larger photo)
Kyrgyzstan
---
Beauty of Lake Issyk-Kul
Bordering four countries, rugged Kyrgyzstan is sandwiched among mountains and valleys, a pristine place for hiking and outdoor activities, such as at Lake Issyk-Kul.
• More info and photos on Kyrgyzstan's stunning Silk Road landscapes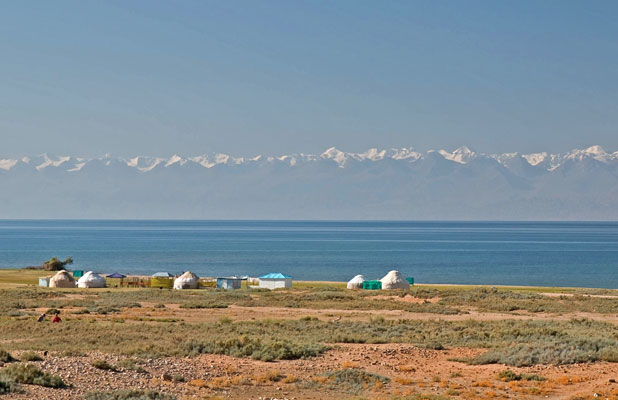 Beloved Horses
For centuries, horses have been an inextricable part of Kyrgyzstan's culture and history. Equestrian polo-like competitions on horseback are thrilling to watch, with crowds cheering on riders and their steeds.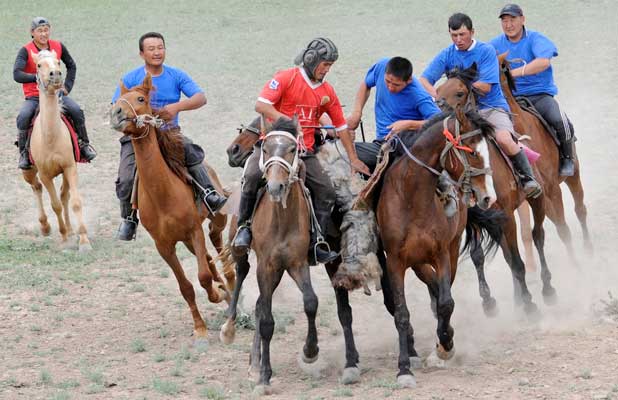 Burana Tower
Built in the 11th century, Burana Tower is one of the few remaining watchtowers along the old Silk Road. The red-brick structure once loomed over the ancient city of Balasagun at 148 feet tall; earthquakes have dropped its height to 82 feet.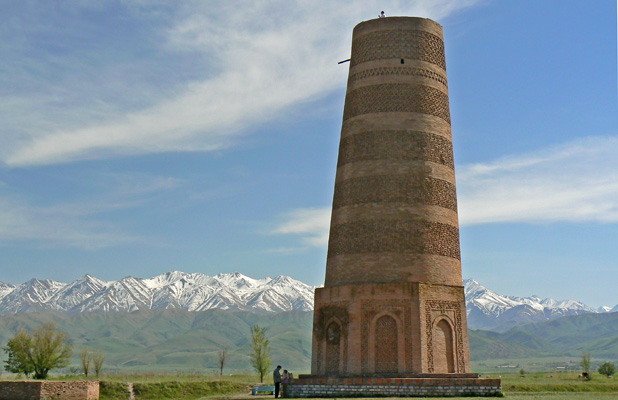 Sulaiman-Too Sacred Mountain (UNESCO)
Nicknamed "Little Mecca," this 653-foot-tall mountain looms over the town of Osh in the lush Fergana Valley. It's considered one of the holiest Islamic sites in Central Asia, long a rock beacon for those traveling the Silk Road.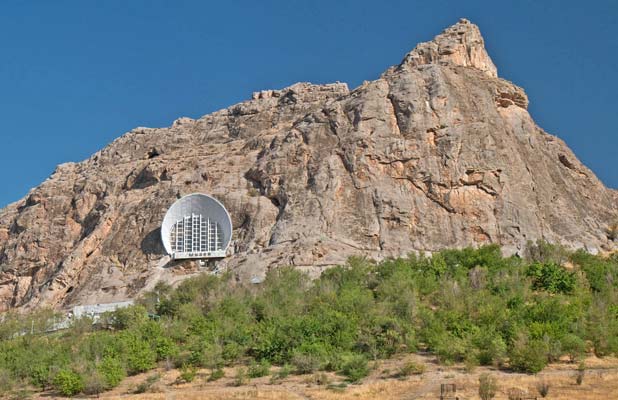 (click image to view larger photo)
Uzbekistan
---
Margilan's Silk Specialities
There's so much to see in Uzbekistan – the heart of the Silk Road – that MIR's Journey Through Central Asia spends considerable time here. In the lush Fergana Valley is the town of Margilan, a major Silk Road stop renowned for its silk-making. Silk threads are dyed bold colors and woven into complex designs known as "ikat," like the one in this video:
(click image to view larger photo)
Rishtan's Renowned Ceramics
The red clay and pigments are unique to this town, with its earthenware dating back a thousand years. Rishtan ceramics are known for elaborate floral and geometric designs in bright blue and green hues.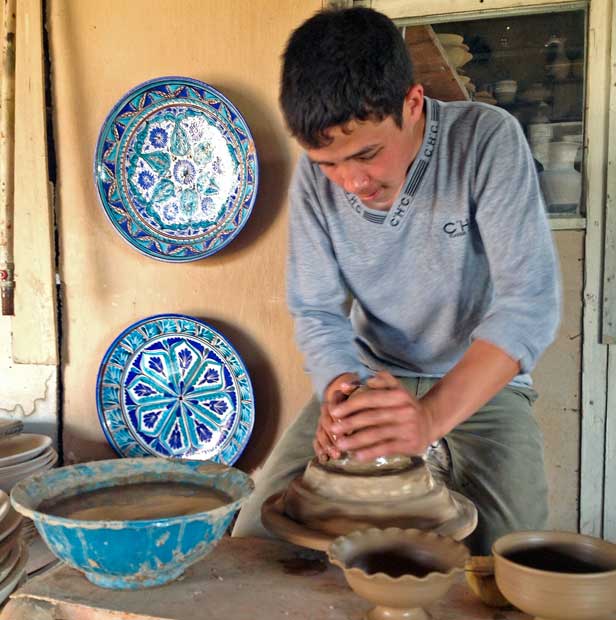 (click image to view larger photo)
Tashkent's Revival
One of the oldest cities in Uzbekistan, Tashkent is a modern capital today – rebuilt after a massive earthquake in 1966 that destroyed much of its architectural history. Tillya Sheikh Mosque houses a large Islamic collection of manuscripts including the 7th century Uthman Koran, considered among the oldest Korans in the world.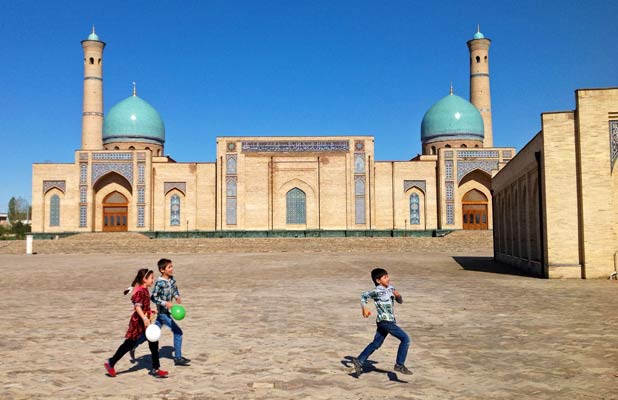 Samarkand's Registan Square (UNESCO)
The heart of the long, ancient Silk Road is Uzbekistan. Some of the most famous UNESCO-listed sites are in this country, such as Samarkand, the "Crossroad of Cultures." Its strategic location and wealth made the city a favorite target of conquerers, from Alexander the Great to Genghis Khan. Registan is considered one of the greatest squares in all of Central Asia, with its blue-tiled mosaics, mosques and madrassahs.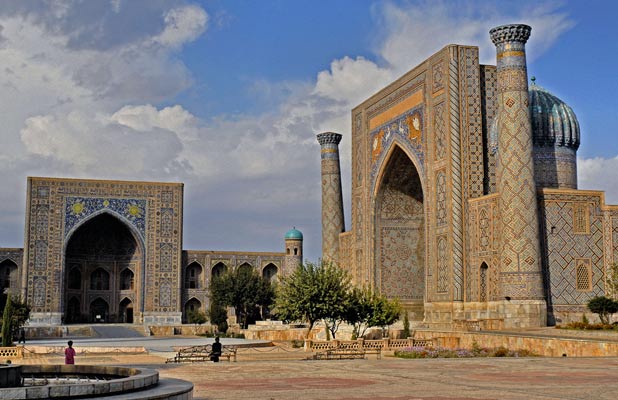 Bukhara's Historic Center (UNESCO)
Bukhara was an oasis in the desert for Silk Road camel caravans long ago, and still is for modern travelers today. The heart of this UNESCO-listed Old Town is Lyabi-Hauz Plaza with its reflecting pool and centuries-old mulberry trees, framed by mosques, minarets and madrassahs.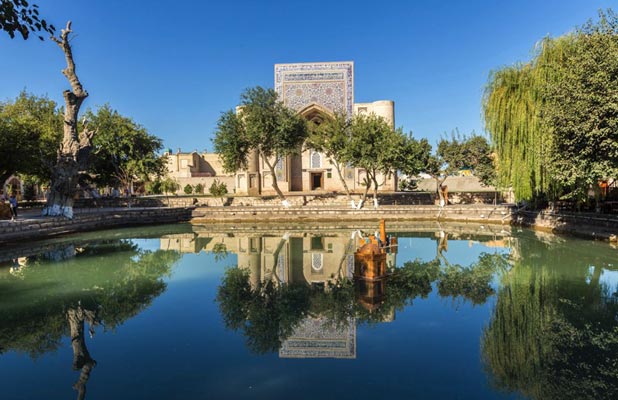 Khiva's Old Town (UNESCO)
Known as "Ichon Qala," Khiva's UNESCO-listed Old Town today looks very much as it did centuries ago, with its dun-colored walls, main gate, and wood carvings – as seen in this video.
(click image to view larger photo)
Tajikistan
---
Ancient Khujand
Infused with the influences of Islam and Russia, Tajikistan is home to 2,000-year-old Khujand, once a religious center and important stop on the old Silk Road.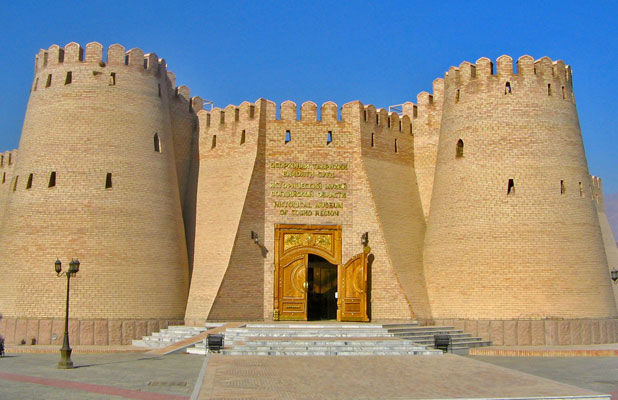 Colorful Panjshanbe Bazaar
Khujand is also known for its colorful, ancient bazaars – such as the covered Panjshanbe Bazaar, filled with fruits, spices and farm-fresh produce.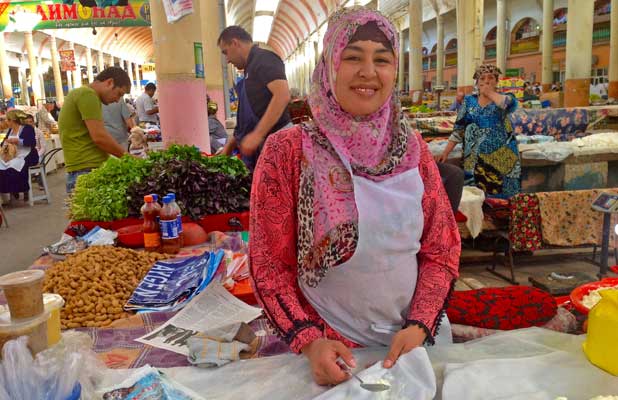 Muslihiddin Memorial Complex
Across from Panjshanbe Bazaar is the final resting place for Sheikh Muslihiddin Khudjandi, Tajikistan's beloved 12th century poet and governor of Khujand. Destroyed by invaders and rebuilt several times, the complex contains the Muslihiddin mosque, minaret, and mausoleum.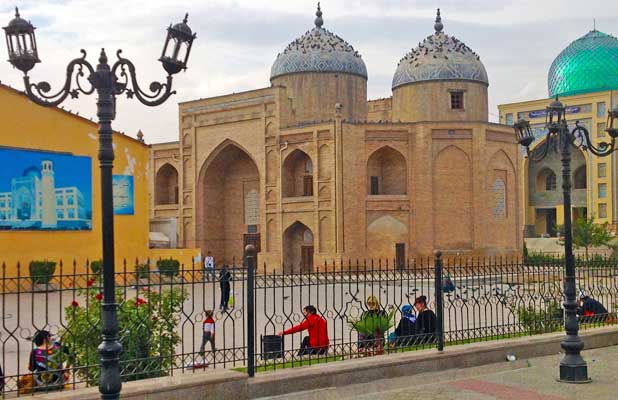 (click image to view larger photo)
Turkmenistan
---
Ancient Ruins (UNESCO)
This last country visited on MIR's tour, Journey Through Central Asia, mixes tribal culture and camels with modern cities and transportation. Its UNESCO-listed ancient ruins of Merv is one of the Silk Road's oldest and best preserved cities, inhabited for more than 4,000 years. Other UNESCO ruins include the Parthian Kingdom of Nisa along with Khorezm's Kunya Urgench and 11th-century Kutlug-Timur Minaret.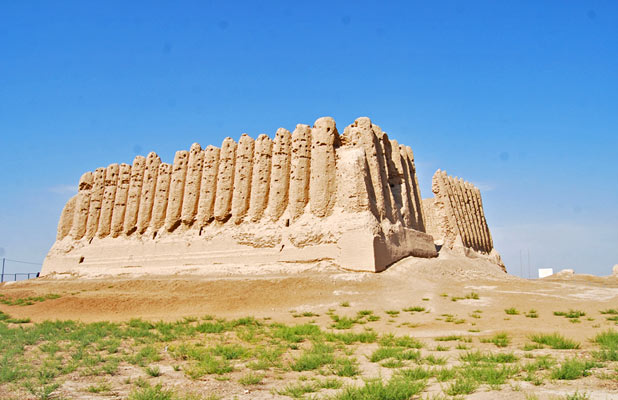 World Record for Marble Buildings
MIR's epic Silk Road tour ends in Turkmenistan's capital city of Ashgabat, filled with so many white marble buildings that it set a Guinness world record.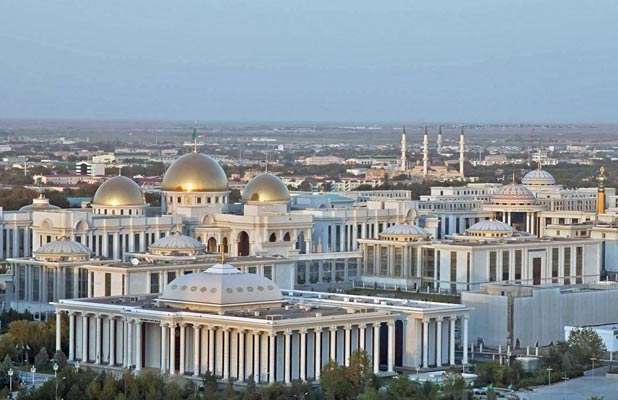 Akhal-Teke Horses
The importance of horses in Silk Road history and devotion to them across all of Central Asia is concentrated in a visit to a horse-breeding farm of Akhal-Teke horses, considered the oldest breed of horse in the world.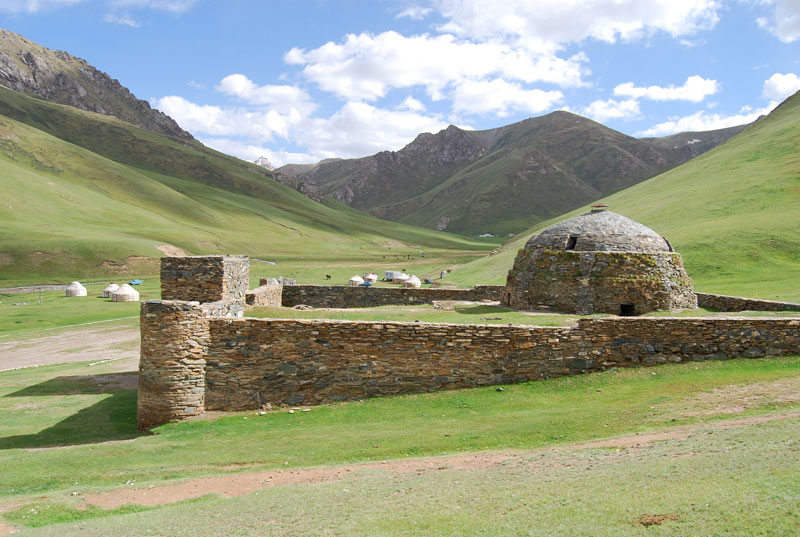 Travel to Central Asia with MIR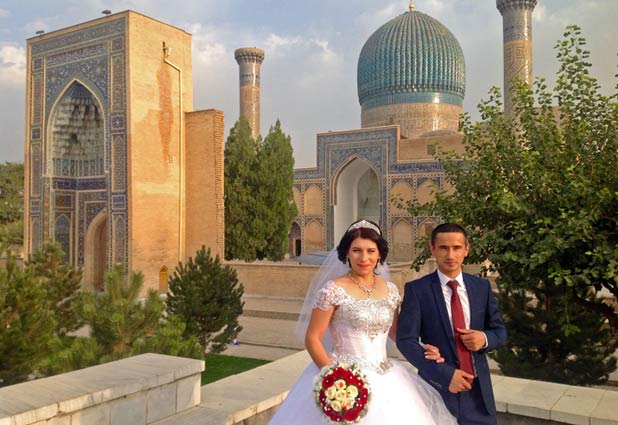 Or, you can create your own Silk Road journey through Central Asia with the help of MIR's custom and private journey specialists.We specialize in personalized, handcrafted itineraries, taking your ideas and desires and and weaving them into a trip tailored especially for you. Travel wherever, however, and with whomever you like, relying on our expert assistance. Contact us to find out more about our custom and private travel expertise, with each journey unique to your interests, dates and pace.
Chat with one of our destination specialists now!