Travel Inspiration: What's New in Uzbekistan
We're in regular communication with our friends and colleagues overseas and appreciate their insight so much, we thought you'd also appreciate a first-hand update from the international MIR network. We are tapping the network of guides, tour managers, partners, and staff in our affiliated ground offices to relate their first-hand accounts from MIR's destinations in our new blog series: Reporting in from MIR Destinations.
Recently, our blog introduced you to several of our tour managers. As the world gradually reopens, you may be wondering what's happening in a specific destination you're planning on visiting sometime in the future. This blog series will provide field reports with detailed updates and conditions on the ground.
We have previously shared destination reports from Mongolia & China, Central & East Europe, the Baltics, the Balkans, and the South Caucasus & Turkey. This batch is from Central Asia. Read a dispatch from some of the countries in this region:
Reporting in from Uzbekistan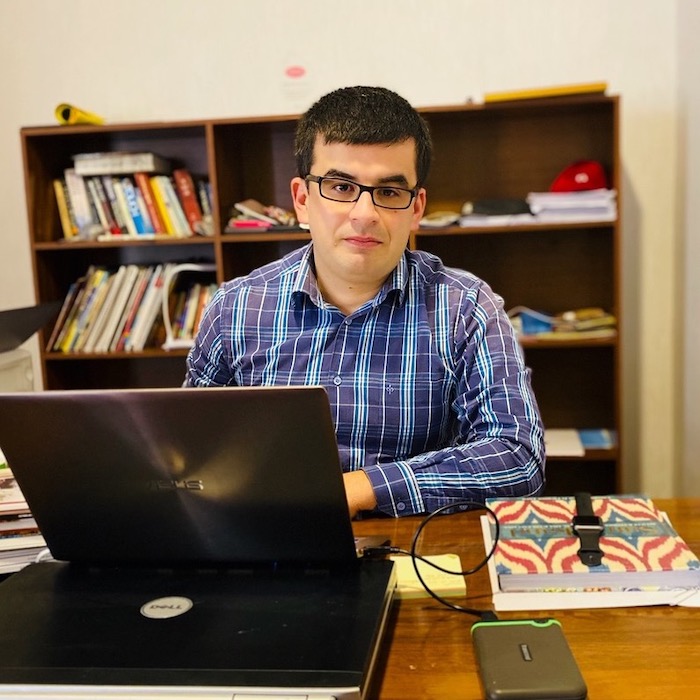 Abdu, Tour Manager and one of MIR's Central Asia coordinators, reporting in from Samarkand, Uzbekistan.
Information current as of November 5, 2020.
1. Let's start with the status of international flights into Uzbekistan – what's the situation?
Abdu: Uzbekistan Airways and other carriers have announced a gradual restoration of flights in the coming days and weeks following the reopening of Uzbekistan's borders on October 1st. We already have flights to Dubai, Frankfurt, Almaty, Bishkek, and Istanbul and expect greater frequency with Turkish Airlines, flydubai, Aeroflot, and Asiana Airlines in the months ahead.
Like some other countries, Uzbekistan uses a red/yellow/green system with entry requirements conditional on the destination from where you are arriving. Requirements include a negative COVID-19 PCR test result in English or Russian, issued within 72 hours before the flight. Temperature screening on arrival, health questionnaires, and commitment to either a 14-day self-isolation (for yellow list countries including most of the EU and UAE) or a quarantine (for red list countries) is also required. Travelers from green list countries (such as China, Thailand, South Korea, Finland, Georgia, and Japan) also require a negative test result, but can otherwise travel freely within Uzbekistan.
The U.S. and Canada are both currently on the red list. However, there is a no-quarantine avenue open for sponsored travel for citizens of both countries through MIR – contact us for full details.
(click image to view larger photo)
2. What's new in Uzbekistan?
Abdu: The tourism boom to Uzbekistan in 2019 motivated locals to build even more hotels in the cities of Bukhara, Khiva, Samarkand, and Tashkent. These new properties range from five-star hotels to boutique, family-run properties, broadening the range of accommodation options available throughout Uzbekistan.
The modern high-rise, Hilton Tashkent City, began operations in late 2019 and is the newest addition to the capital's five-star hotel scene. Complete with all the services you'd expect – an indoor pool, spa, rooftop terrace, and multiple dining options – the hotel is perfectly located between two of the city's best attractions ­­– the Chorsu Bazaar and the Alisher Navoi Opera House. There are also two metro stations just around the corner. The Tashkent metro is an attraction in and of itself, as each station has a different theme. Some incorporate Central Asian decorative motifs, while others resemble Russian palaces with granite, marble, chandeliers, and mosaics. Begun in 1977, the stations on Tashkent's three lines are meant to be "art galleries for the people."
(click image to view larger photo)
MIR travelers tend to prefer boutique hotels due to their intimate size, national décor, and the fact that they are often inside old inner-city buildings that have preserved the original architectural charm. For example, the Zarafshan Boutique Hotel in Khiva is located inside the UNESCO-listed inner fortress, Ichan Kala. The family that built the hotel also lives in this old town, and they opened the doors to their first guests in the Spring of 2020. This property has 26 rooms and a rooftop lounge with views of the old town and city walls.
Other new hotel openings include: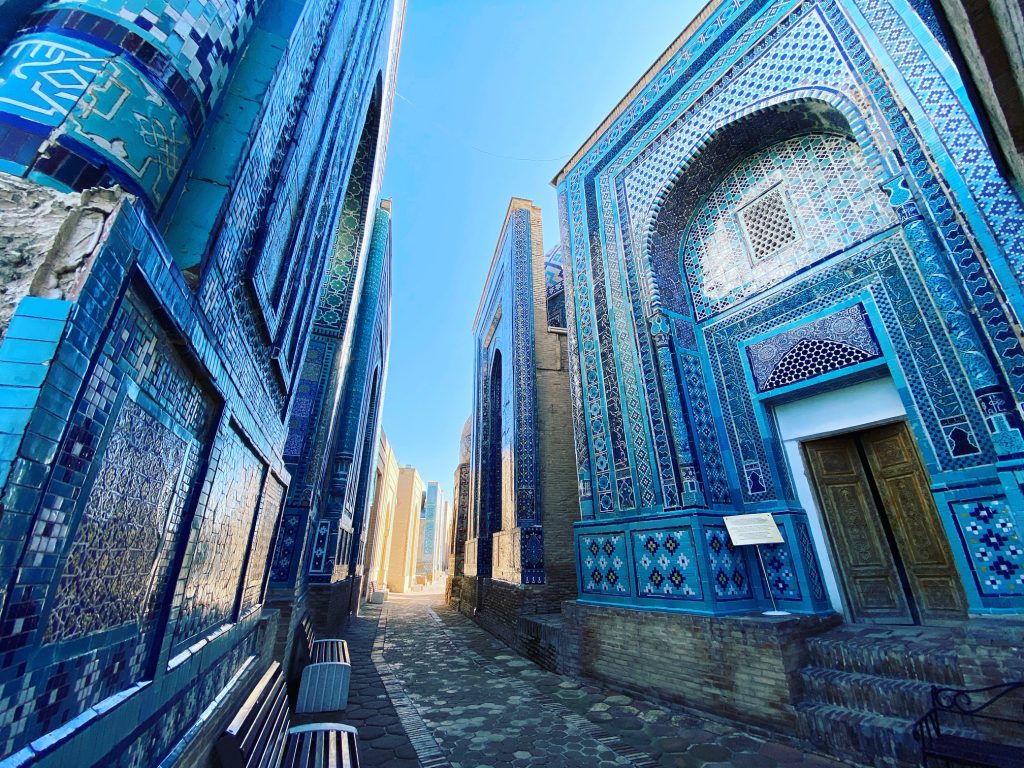 In addition to in-city options, the Amirsoy Mountain Resort also opened its doors to visitors in early 2020. The resort complex is located in one of the most beautiful and picturesque areas near Tashkent on the spurs of the Chatkal Ridge in the western part of the Tien Shan mountains. After its full launch, the Amirsoy will have winter and summer infrastructure including comfortable chalets, restaurants and bars, a bath complex, spa, and swimming pools. For picnic lovers, specially designated areas will be created where you can rent gazebos and equipment.
3. How strong is the USD these days?
Abdu: Uzbekistan's currency has had a tough couple of years. Since January 2019, the Uzbek sum has fallen from 8,340 sums to the dollar to about 10,369 sums to the dollar currently – a significant depreciation.
The value of the USD still goes a long way in Uzbekistan, as it remains a country with very reasonable costs for foreign visitors and is noticeably less expensive than most of its Central Asian neighbors. Since exports continued during the shutdown, the overall economy has fared better than expected throughout the pandemic and is well positioned for a bounce back in 2021.
(click image to view larger photo)
Uzbekistan is continuing along an aggressive path toward international integration and market reform. Many investor-friendly policies are being adopted and international credit ratings are going up. The hope is that transforming the economy will translate into higher living standards for Uzbeks in the coming years. In spite of the pandemic, it's an exciting time for Uzbekistan, which has a very bright future.
(click image to view larger photo)
4. What's the first dish and/or beverage you most like to introduce visitors to?
Abdu: The first meal I always suggest is plov. Though the main ingredients are rice, meat, and carrots­, there are over forty variations of plov registered in Uzbekistan! The history of the food goes back millennia. My grandfather once told me that this dish is the embodiment of food. That is why, even now, it also goes by the name osh (which translates into English as 'meal'). My grandfather, a WWII survivor and a very well-read man who was one of the few people who could read history books written before the creation of the Soviet Union, claimed that plov was invented by the first medical doctor of Central Asia, Ibn Sina, some 1,000 years ago. There is no public event in Uzbekistan that goes without plov as the main dish; it's always a feature at festivals, weddings, birthday parties, and even funerals.
(click image to view larger photo)
One of the best places to experience plov is at the famous Central Asian Center of Plov in Tashkent, where giant cauldrons of plov are served in a large dining hall. Popular with locals and visitors alike, it's possible to observe the whole process of preparing plov as six massive cauldrons and almost 1,200 pounds of plov are prepared every day of the week! The food is delicious indeed, but mingling with the locals is a bonus of this experience.
As far as beverages, the thing to try in Uzbekistan is the local green tea. Not only is it our national drink, but it plays an important role in our society as a medium for socializing. At the same place where we try plov, I recommend travelers order a pot of tea served in special piola cups (small cups without handles). There are dozens of traditions that one can learn from this process. For instance, in Uzbekistan, the phrase "Let's have a cup of tea" has various meanings. The phrase could suggest anything from having a feast to discussing social issues. How you handle your teapot, how much tea you pour, how you offer the cup to your guest, and how you drink your tea can all be interpreted in various ways. Visitors I've traveled with have loved listening to the traditions and have tried to follow them throughout their time in Uzbekistan.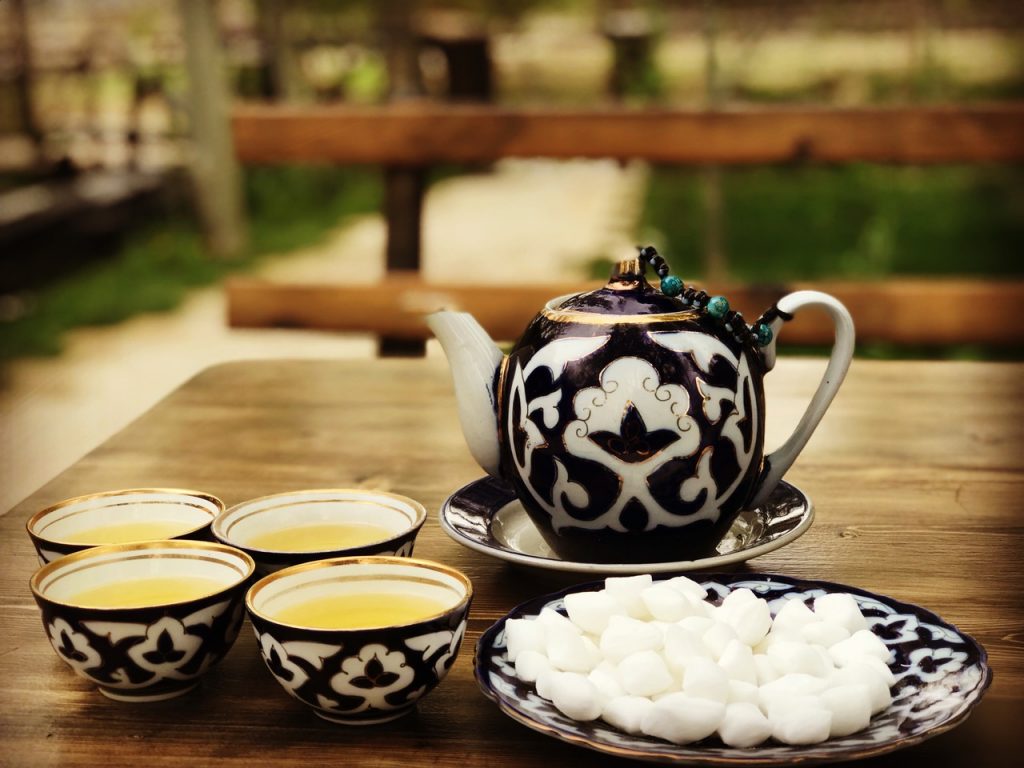 Uzbekistan – The Ultimate Silk Road Experience
Uzbekistan is the heart and soul of the Silk Road. The Old Towns of its oasis cities – Khiva, Bukhara, Samarkand, and Shahrisabz – are mazes of exotic architecture and gorgeous decorative art, while the Fergana Valley is a fertile oasis dotted with ancient villages. Combined with a generous and hospital people with colorful cultural traditions, this remarkable country has many beauties, large and small, to explore.
Whether you're thinking of traveling sooner or later, don't miss out on the intricately-tiled architecture, hand-woven textiles, and multi-faceted traditions of Uzbekistan. Check out all the travel options for yourself.
Questions about traveling in Uzbekistan? Amy Stidger loves planning trips to Uzbekistan and is happy to chat anytime.
No matter your travel style, there's an Uzbekistan adventure that's right for you.