Travel Inspiration: What's New in Turkmenistan
We're in regular communication with our friends and colleagues overseas and appreciate their correspondence so much, we thought you would also appreciate a first-hand update from the international MIR network. We are tapping this network of guides, tour managers, partners, and staff in our affiliated ground offices to relate their first-hand accounts from MIR's destinations in our new blog series: Reporting in from MIR Destinations.
Recently, our blog introduced you to several of our tour managers. As the world gradually reopens, you may be wondering what's happening in a specific destination you're planning on visiting sometime in the future. This blog series will provide field reports with detailed updates and conditions on the ground.
We have previously shared destination reports from the Balkans, the Baltics, Central & East Europe, Mongolia & China, and the South Caucasus & Turkey. This batch is from Central Asia. Read a dispatch from some of the countries in this region:
Reporting in from Turkmenistan
Information current as of November 20, 2020.
1. Let's start with the status of international flights into Turkmenistan – what's the situation?
Sapargylych: Due to the current situation with the pandemic, international and domestic flights have been temporarily suspended until January 1, 2021. There have been some exceptions, like charter flights which have operated since late August to fly Turkmen citizens returning home from abroad, as well as those carrying diplomatic corps and foreign businessmen. All passengers must have a negative PCR test prior to boarding the flight and undergo a mandatory two-week quarantine on arrival.
Precautions inside Turkmenistan are strictly observed, including wearing masks and gloves and practicing social distancing. The decision to reinstate international flights and re-open borders will be made by the government based on the situation of the spread of the virus worldwide.
(click image to view larger photo)
2. What's new in Turkmenistan?
Sapargylych: 2020 has been an uneasy period for the whole of humanity and tourism has been greatly impacted. The pandemic has put all tourism on pause. Perhaps, nature tries to appeal to us to stop, to slacken our crazy pace of life and relax. Relax to think about life, about nature, about the harm made with our own hands. Since late March the "green team" in our office has been focused on how we can make a contribution to the care of the environment. We want to show that even a small action, like a drop in the ocean, can turn into a huge benefit if we all work together. Within the past few months, our team has collected nearly 9,000 lbs of trash in the Darwaza area. During the spring months we planted mulberry, juniper, and polar trees around the camp and prepared the land for growing various kinds of melons.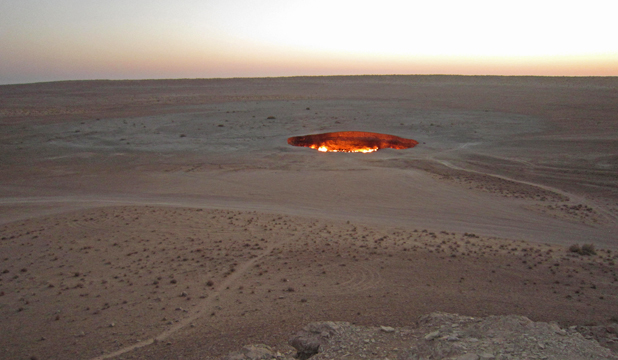 During this pause in tourism, our government undertook some hotel infrastructure upgrades in the capital city, Ashgabat, to improve the available hotel options with three notable properties:
The newly re-branded luxury Hotel Diwan (formerly Nusay) will open next year. This property has an excellent location in the city center opposite the Presidential Palace, and its facilities have been expanded to include two conference rooms, two restaurants, indoor and outdoor swimming pools, a fitness center and spa, tennis court, and football (soccer) field.
The French company Bouygues Construction is currently close to finishing construction of the new luxury Hotel Arkadag in the southern part of Ashgabat. It is slated to open in December 2020 during the 25th anniversary celebration of Turkmenistan's Neutrality. Set against the beautiful Kopetdag Mountains, this property is located in a sprawling resort-like setting and encompasses an artificial lake and river, outdoor pool with water park, fountains, and an outdoor restaurant. The facility is part hotel, part business center, and part apartment complex.
The new Hotel Garagum is expected to be completed sometime in 2021 and is named for the 'black sands' desert Kara Kum, or Garagum, the largest desert in Central Asia. Situated close to the Ashgabat International Airport (only 10 km from the city center), this ambitious project includes a luxury eight-floor hotel, shopping mall, 150-seat restaurant, meeting rooms, spa, and gym.
Our government has also recently completed work on a new gilded statue of an Alabai dog, a Turkmen breed of the Central Asian shepherd that is a favorite of our President Gurbanguly Berdymukhamedov.
We are also using this time to focus on developing lesser-known destinations within Turkmenistan that will appeal to travelers looking to explore more deeply and discover someplace new. One of the most special places to explore in Turkmenistan, but still virtually unknown to foreign visitors, is the pristine Koytendag/Kugitang area in the southeastern part of the country, near the Uzbek and Afghan borders. Located on the western slope of the Kugitang/Koytendag mountain range, the area encompasses an interesting nature reserve and is known for its karst caves, enormous gorges, and the Dinosaur Plateau where more than 400 preserved dinosaur footprints can be seen.
(click image to view larger photo)
3. How strong is the USD these days?
Sapargylych: The USD has been stable in our country since 2015. The current exchange rate is about 3.5 Turkmen Manat (TMT) to the dollar according to the Central Bank of Turkmenistan.
(click image to view larger photo)
4. What's the first dish and/or beverage you most like to introduce visitors to?
Sapargylych: The meal for the Turkmen has always been not just a meal, but an indispensable component of our culture, etiquette, good neighborliness, and hospitality. Learning about our national cuisine will help visitors get to know the character of the Turkmen people via the "taste" and "aroma" of our traditions. Turkmen cuisine has hundreds of delicious recipes that can surprise savvy travelers. Some of the most popular dishes that stand out, and which I personally recommend, include: Dograma chorba (lamb soup with Turkmen bread called chorek, onions, and broth), Turkmen pilaf (from chicken, lamb, beef, and in the western regions of the country from fish), and chekdirme (fried lamb with potatoes and tomatoes).
(click image to view larger photo)
Various flour products are characteristic of the Turkmen cuisine including gutap (vegetable pies) and fitchi (meat pies) that are cooked in a tandyr style oven. Of the national drinks, ayran is the most popular. It is made from a fermented milk product called suzma with the addition of cucumber, mineral water, herbs, and a dash of chal (camel milk).
(click image to view larger photo)
Turkmenistan – A Novel Mix of Old and New, Far from the Beaten Path
Turkmenistan is a novel country with multiple personalities, none of them very well known to the outside world. The Turkmen people were traditionally nomadic horsemen. Four-fifths of the country is taken up by the Kara Kum desert, and its natural fossil fuel wealth is apparent in the abundant marble embellishments of its capital, Ashgabat. Outside of the capital, mountain tribes hold to ancient customs with little concern for the wider world, and archaeologists sift through massive sites dating back as far as the Bronze Age. This exotic country is rarely visited, but well worth the effort.
Whether you're thinking of traveling sooner or later, don't miss out on the dramatic natural beauty and exotic traditions of Turkmenistan. Check out all the travel options for yourself.
Questions about traveling in Turkmenistan? Joanna Millick loves planning trips to Turkmenistan and is happy to chat anytime.
No matter your travel style, there's a Turkmenistan adventure that's right for you.