Vote for MIR – Finalist for an AFAR Traveler's Award
We are excited to announce that MIR has been selected as a finalist for an AFAR Traveler's Award!
Our enthusiasm for introducing MIR travelers to our favorite cuisines of the South Caucasus, Silk Road, Balkans, and beyond has garnered us recognition in the category of Best Culinary Adventures.
While the novel coronavirus pandemic has called on humanity to postpone our travel dreams temporarily, connecting travelers with our under-explored destinations and sharing our excitement for the next adventure remains imperative.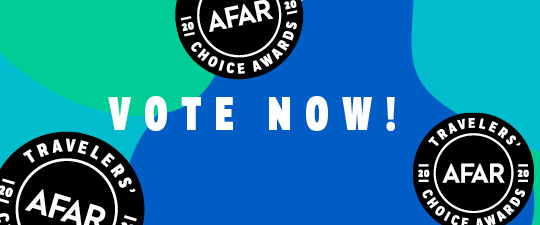 We would be thrilled to earn your support by casting a vote for MIR as AFAR Traveler's Award recipient for Best Culinary Adventures!
Voting ends on August 20, 2020, so please take a few seconds to vote today. Feel free to take the entire survey, or scroll down to click the "Next" button 4 times to quickly reach the Best Culinary Adventures category.
(click image to view larger photo)
If your next voyage should include exotic treats, either savory or sweet, we invite you to browse a selection of signature MIR trips that have helped to earn our reputation as a top provider of culinary adventures. MIR's destination experts are always on hand to organize custom and private journeys with a focus on any special interests, including food and drink. Please visit our website for more information, and thank you for taking a moment to vote for MIR!