Photo Essay: 9 Reasons to Love Tbilisi, Georgia
With bounteous food, rivers of wine, sophisticated museums, historic architecture, and cutting-edge restaurants, Tbilisi, Georgia has most everything you could ask for in a destination. Growing more popular and "discoverable" with every travel season, Georgia's capital city is ripe for the picking.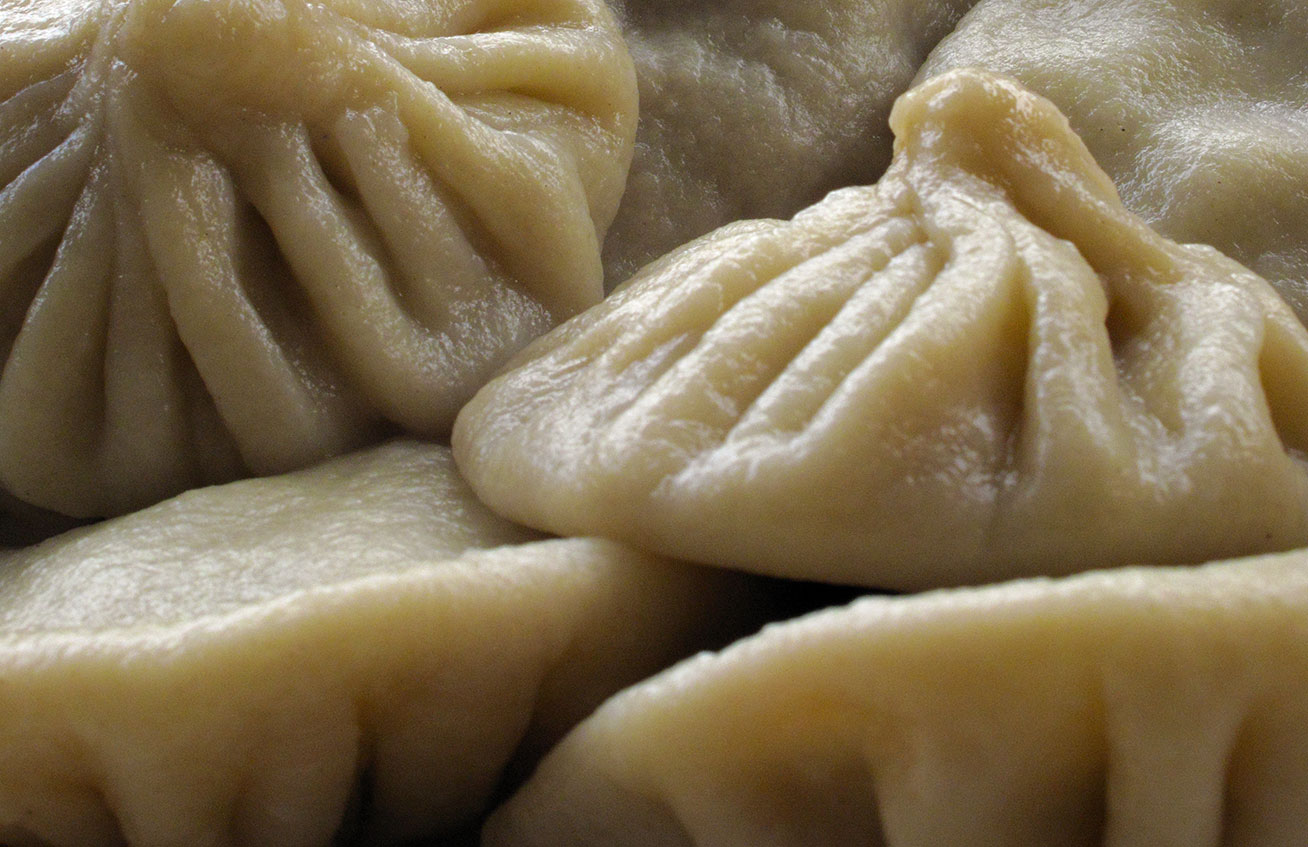 Here are 9 reasons to discover Tbilisi before everyone else does…
1) Cafés and Khachapuri
Wandering Tbilisi's indefatigable Old Town, along sidewalks impeded by the occasional misplaced tree, followed by unbothered street cats pawing their way delicately over the curbs, you'll pass charming shops, old churches, and balconied apartments.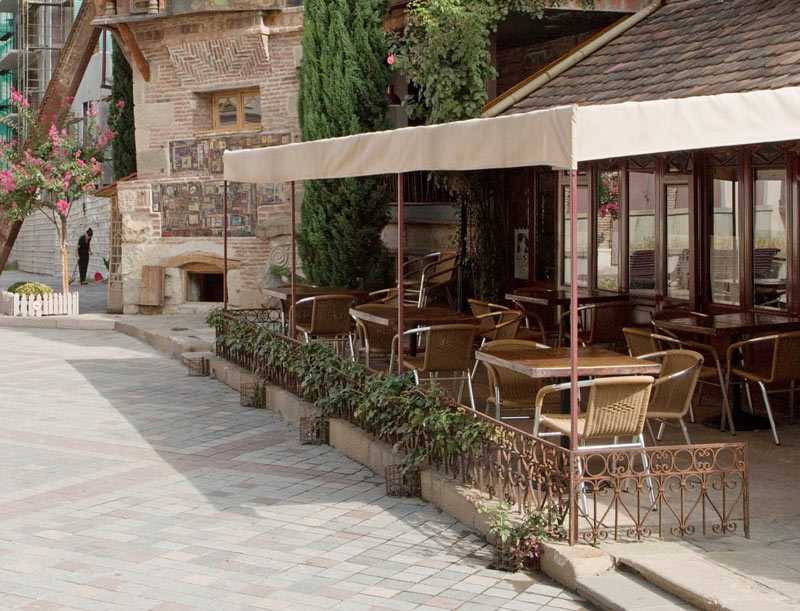 (click image to view larger photo)
A few local people hurry off to work or school, queuing for the bus or striding purposefully down the streets, but others lean in doorways smoking and drinking Turkish coffee, a holdover from the Ottoman Empire.
One of the greatest pleasures of a walk around the Old Town is the presence on every corner of a place to relax and refresh – a café offering the aforementioned strong coffee, along with slices of khachapuri, the cheesy, salty, pizza-like snack bread that Georgians love.
(click image to view larger photo)
Stop for a rest, drink a glass of wine, a cold beer, or a cup of hot coffee, and celebrate the deliciously rich flavors and textures of Georgian comfort food.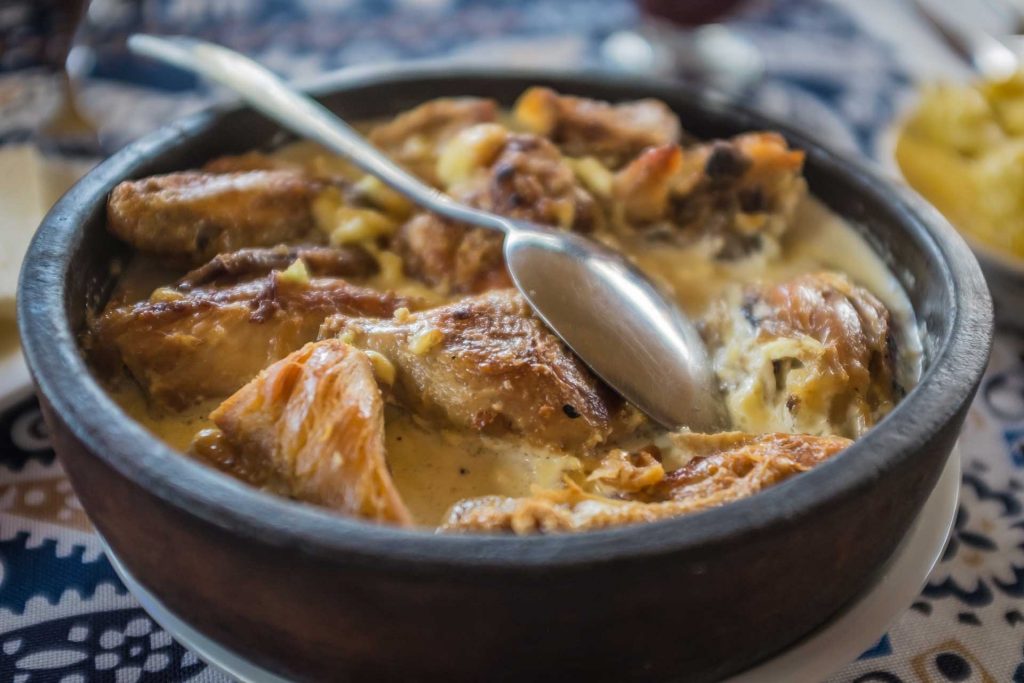 2) Old Sulfur Baths
The gently steaming stone pods of Tbilisi's sulfur baths, abanos, pop up from the pavement in the Old Town. The city's earliest sulfur baths were probably built during Arab rule in the 7th or 8th centuries, when it was discovered that hot springs are just under the surface here. In the 13th century there may have been up to 68 baths in Tbilisi; now there are five.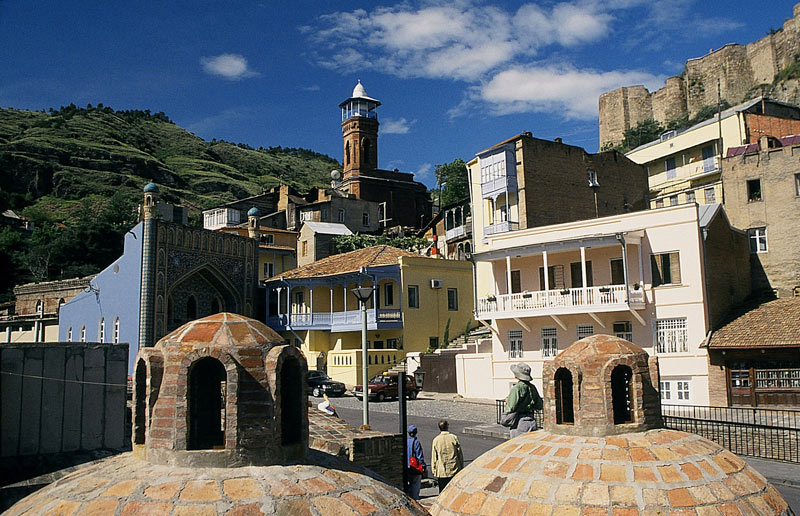 You can can hire a private room day or night at most of the baths, soaking to your heart's content and ordering up a brisk scrub or a massage. The oldest and most beautiful bathhouse is Number 5, its interior clad in tiles and mosaics. You'll recognize it by the holdover hammer and sickle on the sign outside. Inside is a public bath divided into men's and women's sections, as well as the more deluxe private rooms.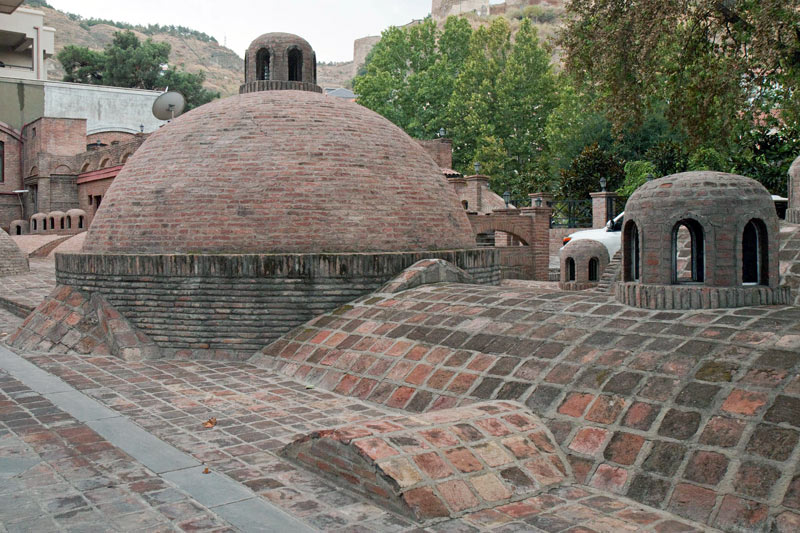 Most of the baths in use today were built in the 17th century. The temperatures of the different baths are between 46 and 104 degrees Fahrenheit, and are considered very therapeutic.
3) Modern Bridge of Peace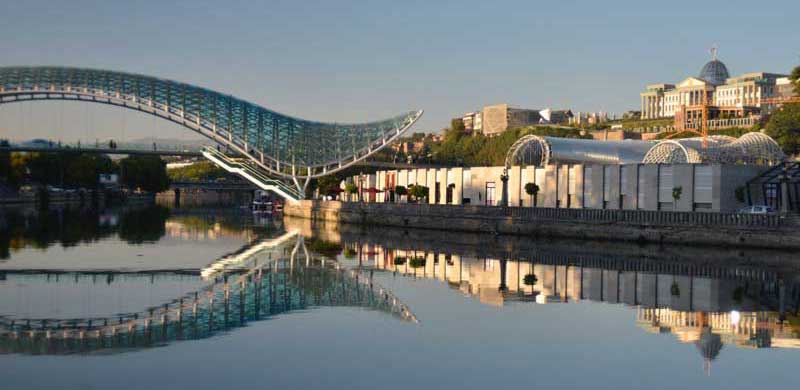 The sinuous bow-shaped Bridge of Peace over Tbilisi's Mtkvari River connects the Old Town with the new. Completed in 2010, the pedestrian bridge is made up of thousands of interlocking steel tubes covered in transparent glazing, and lit by a constellation of LED lights that put on a show every evening from sunset to sunrise. The views of the Old Town are wonderful from here, especially at night, when even the river below is illuminated.
(click image to view larger photo)
On the modern side of the bridge is the new Rike Park, a gathering place for local adults and children with lush landscaping, fountains, a climbing wall, a huge chessboard, and the starting point of a cable car system that carries riders up to the 4th-century Narikala Fortress, where the views are truly spectacular.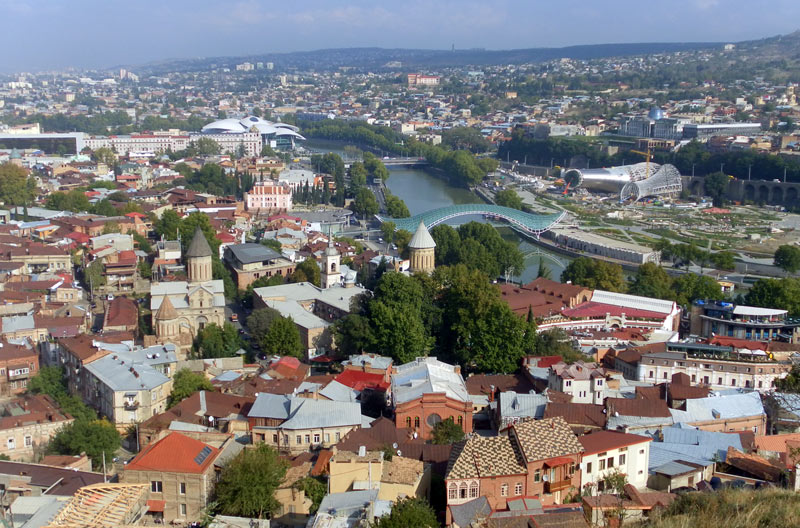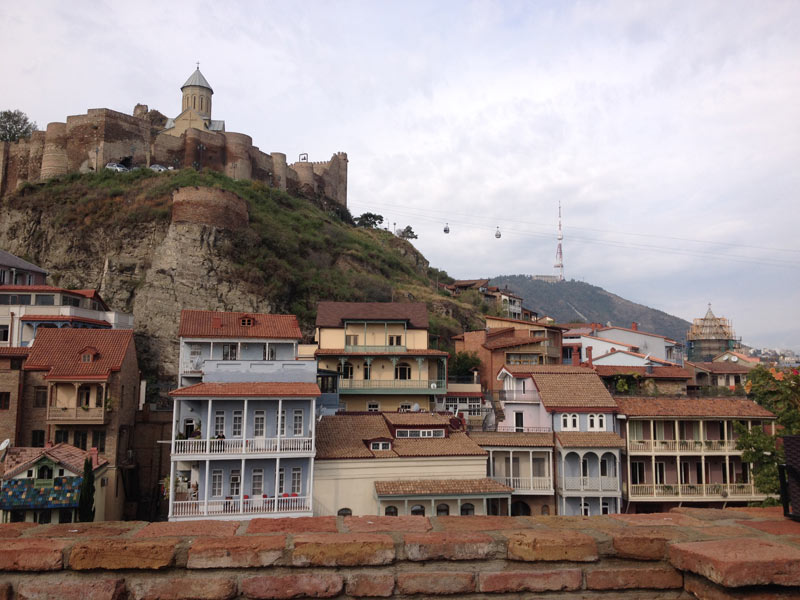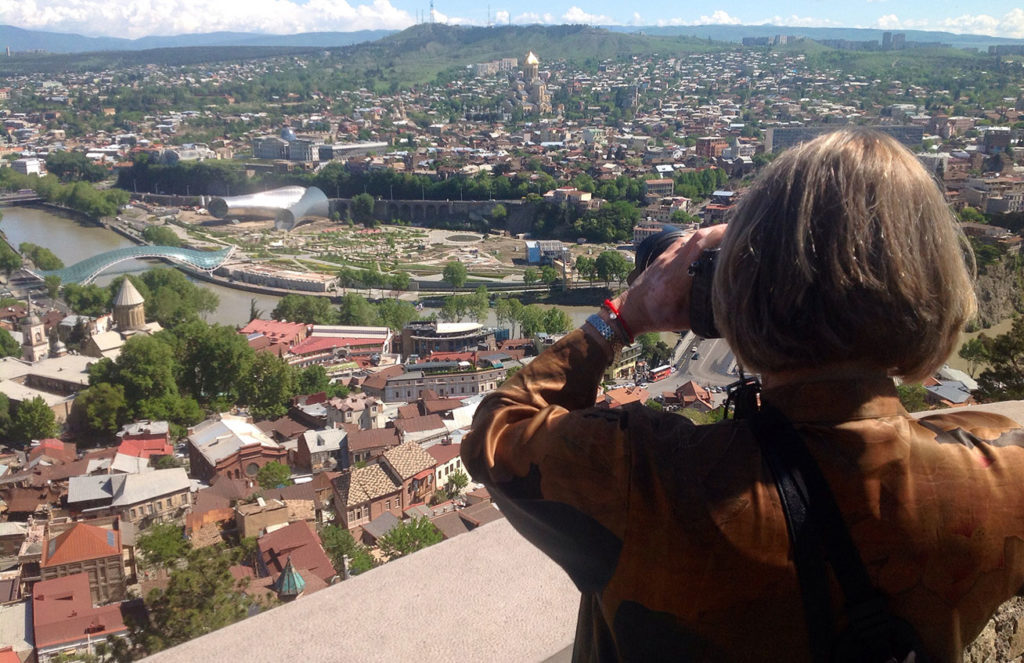 4) Art Nouveau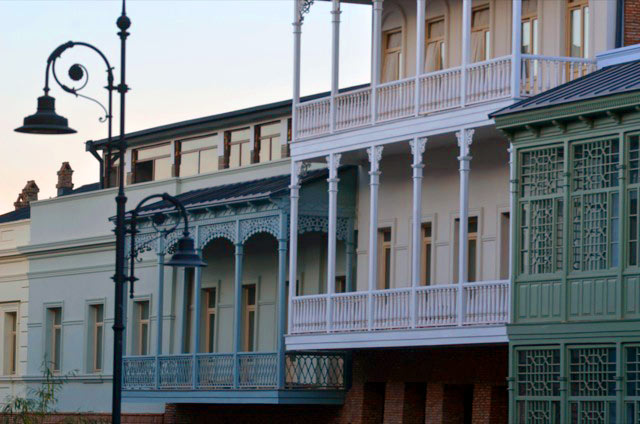 Just west of Tbilisi's central Old Town is the art nouveau Sololaki District, built in the 19th and early 20th centuries by Georgian and European architects.
The imaginative and decorative art nouveau style took root in the late 19th and early 20th centuries, resulting in beautifully decorated facades adorned with sculpture, iron work, and stylized motifs drawn from nature.
Once the city's most prestigious neighborhood for wealthy bourgeois families, merchants, and artists, Sololaki fell into a period of disrepair for much of the 20th century. Today, however, the district is among the city's most hip locales where Georgian fusion restaurants and natural wine bars can be found around every corner.
Sololaki's art nouveau facades have been largely restored, and its winding streets of traditional houses with long, decorated balconies and hidden courtyards make it a joy to explore on foot.
5) Dry Bridge Market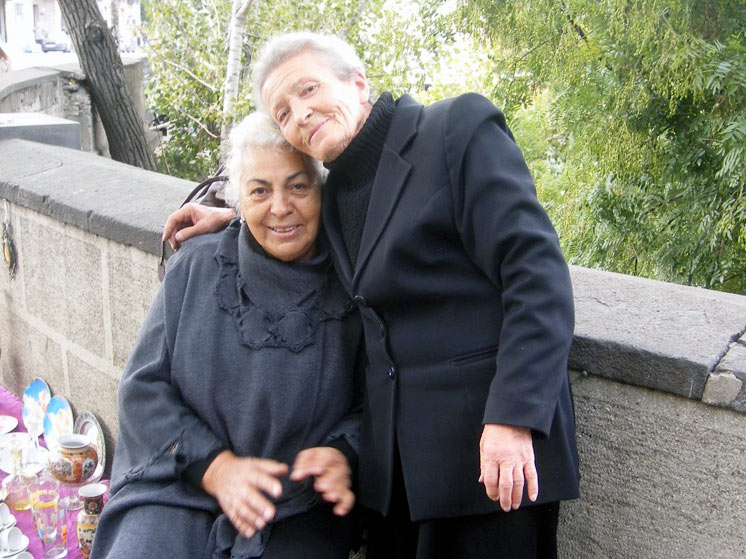 Browsing the big open-air Dry Bridge flea market can make for a gratifying morning outing. Vendors sit in the shade next to blankets and tablecloths covered with wares that run the gamut from ethnic jewelry, tchotchkes, carpets, and tableware, to car parts and greasy tools. You can find original paintings and handicrafts in a small park nearby.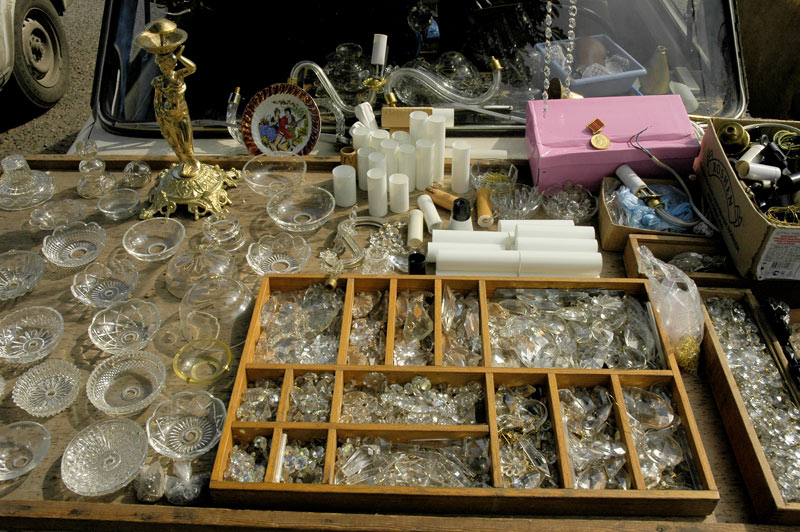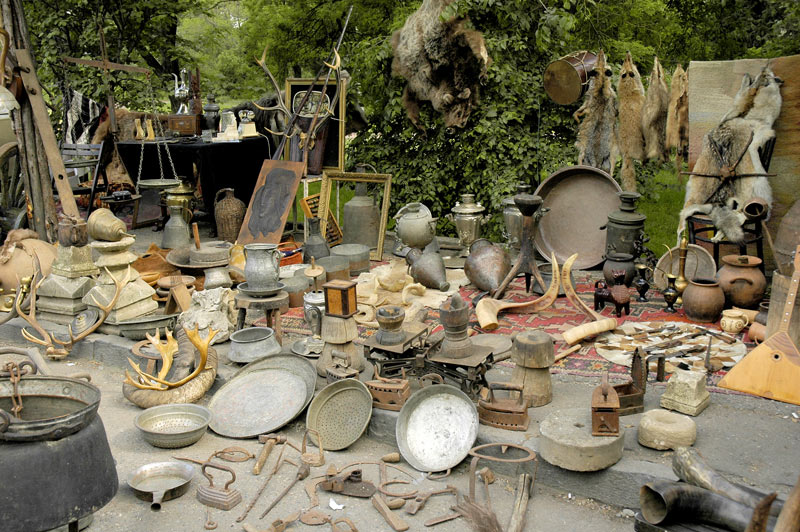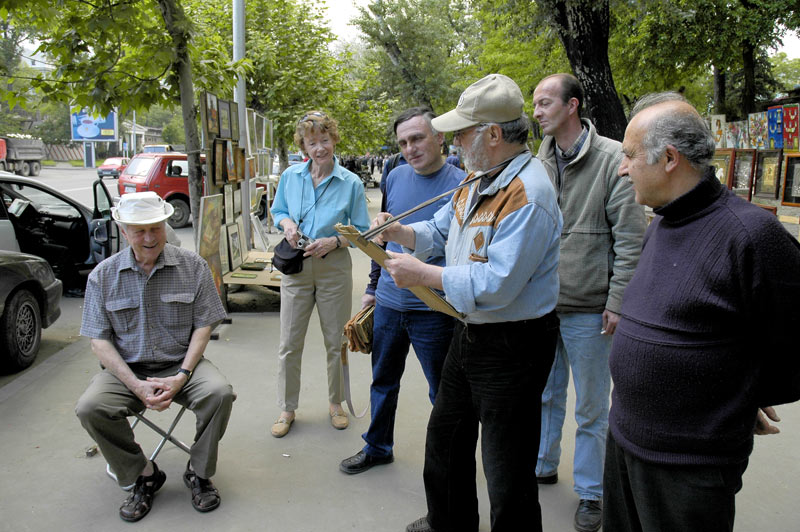 6) Kebzari Jewelry Workshop and Educational Center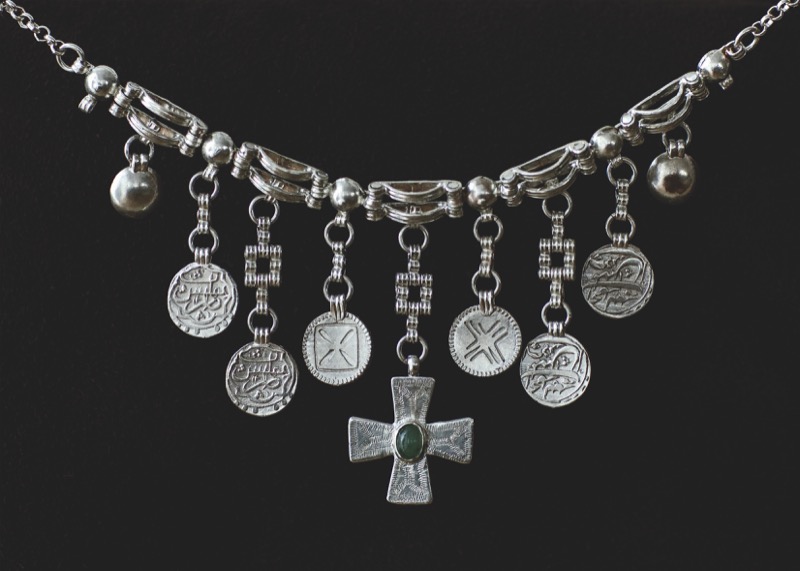 Now you can visit the brainchild of Nino Mamulashvili — the workshop and educational center, Kebzari Jewelry. Nino and her team's high-end work features beautiful pieces of jewelry that combine traditional aesthetics with modern touches. Her work is inspired by or even modeled on historical artifacts found in the Caucasus. Learn firsthand how they are manufactured in the workshop. For those really interested MIR can organize a presentation on the research, design, and history behind the jewelry and a chat with Nino about her work, inspirations, and life.
7) Skulls!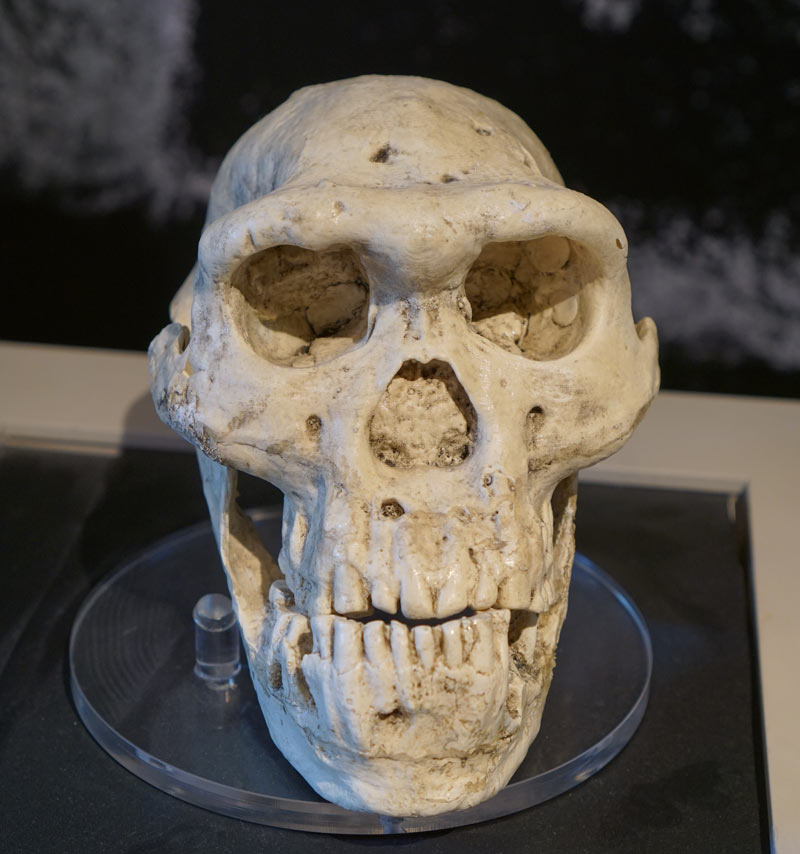 In Tbilisi's Georgian National Museum, you can see replicas of five 1.8-million-year-old Homo erectus georgicus skulls that shook up the world's paleoanthropologists. Unearthed at Dmanisi, a medieval Georgian town where Silk Road caravans used to pass, the skulls belong to the earliest hominids found outside of Africa.
In the Middle Ages, townspeople dug cellars and storage pits through layers of these strange bones, but it wasn't until excavations in the 21st century that the bones were identified. Surprisingly, one of the skulls belonged to a toothless old person who must have needed help to stay alive, evidence that early humans looked out for each other.
The five skulls have made the Dmanisi site crucial to the study of human evolution. David Lordkipanidze, the General Director of the museum who discovered them, believes that in spite of their varying sizes and shapes, the skulls all belong to the H. erectus species.
8) Wine and Food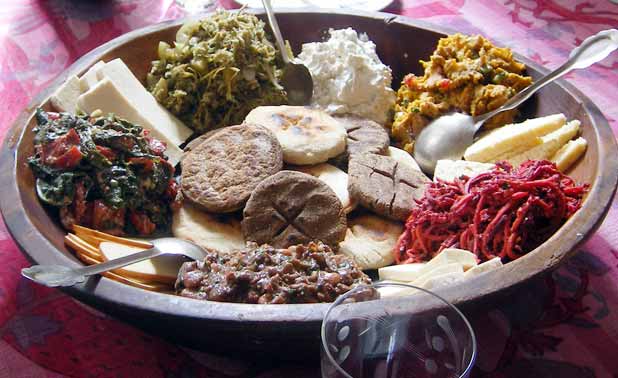 Any article about Georgia wouldn't be complete without mentioning its fabulous food and wine. Be prepared for the local people to press you to eat and drink more of it. And be ready for plenty of toasts, an art form within itself that Georgians have mastered.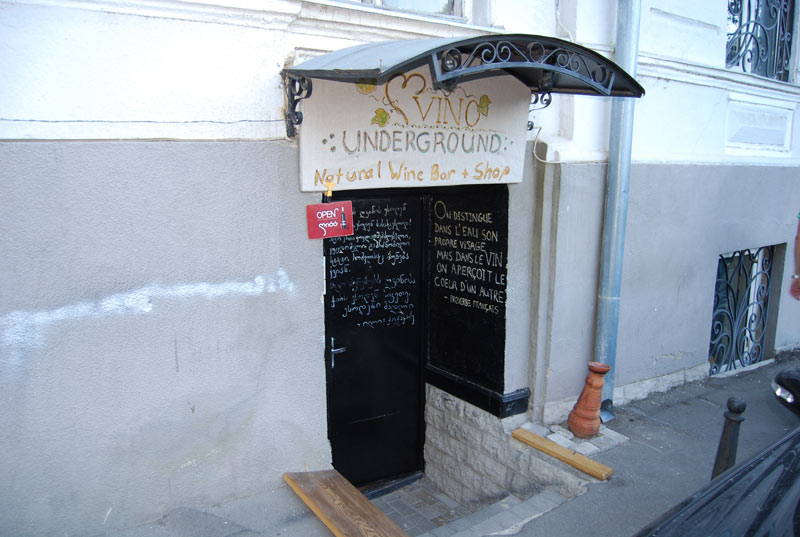 In Tbilisi, you can dip down into the cool cellar of the wine bar Vino Underground for a tasting of rare natural wines from across Georgia. Sample both reds and whites from different terroirs and regions, paired with light snacks, cheeses and breads. Vino Underground was established to introduce the new wave of all-natural Georgian wines to neophytes and aficionados alike – it was the first of its kind and remains our top pick of wine bars.
A must-try dish in Georgia? Without a doubt the huge plates of khinkali, Georgia's traditional savory dumplings. This is Georgian street food at its best. Khinkali can be filled with a variety of ingredients, from a mixture of ground mutton and pork, to vegetarian options including various combinations of potato, garlic, mushrooms, and cheese. In Georgia's mountainous areas, cooks often mix in special signature spices that set their regional khinkali apart. This dish is traditionally enjoyed with cold beer, and Georgians discard the top stem of each dumpling to prove how many they can eat!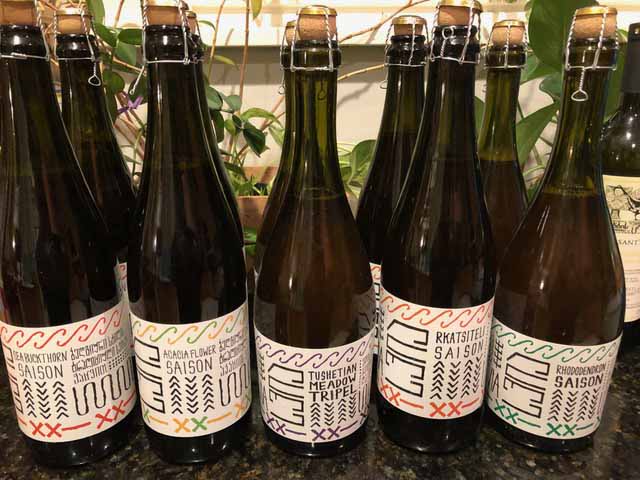 Restaurants where you can experience a prodigious Georgian Feast are plentiful in Tbilisi. One of our favorites is located in the Vake Bazaar in the Vake District. Poliphonia Tbilisi offers an inspired, rotating menu of Georgian fusion dishes in a casual environment. The focus is on highlighting the country's distinctive culinary regions with dishes prepared with organic, local, and seasonal ingredients. The local and all natural wine list changes nightly to pair with the evening's plates, along with SVIA craft beer from the innovative Lost Ridge Brewery.
The small, exclusive Barbarestan restaurant is set in an old-fashioned Georgian apartment, furnished with antiques and "Grandma's old furniture." The cuisine is a fresh, local, modern take on the 19th century recipes of Duchess Barbara Jorjadze. The extensive wine cellar is from the 19th century as well.
All over Tbilisi, you'll have the chance to sample some of the most delicious fresh-baked bread in the world.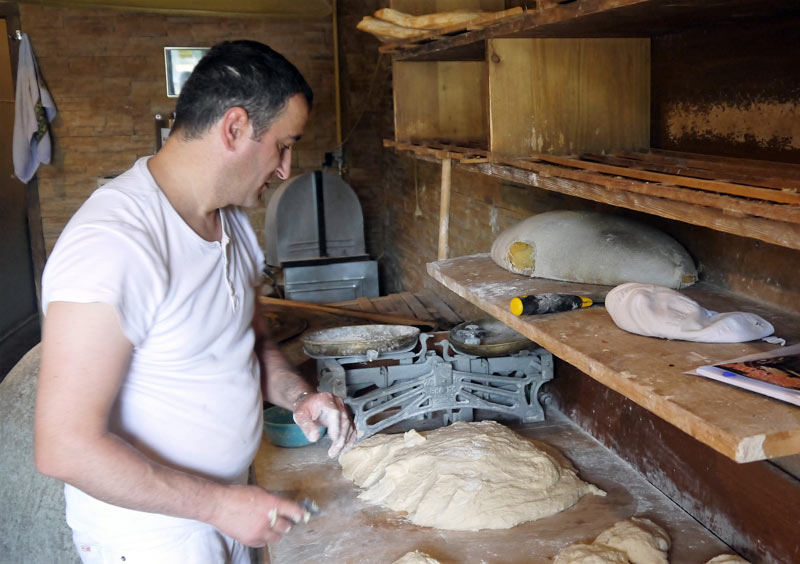 9) And Song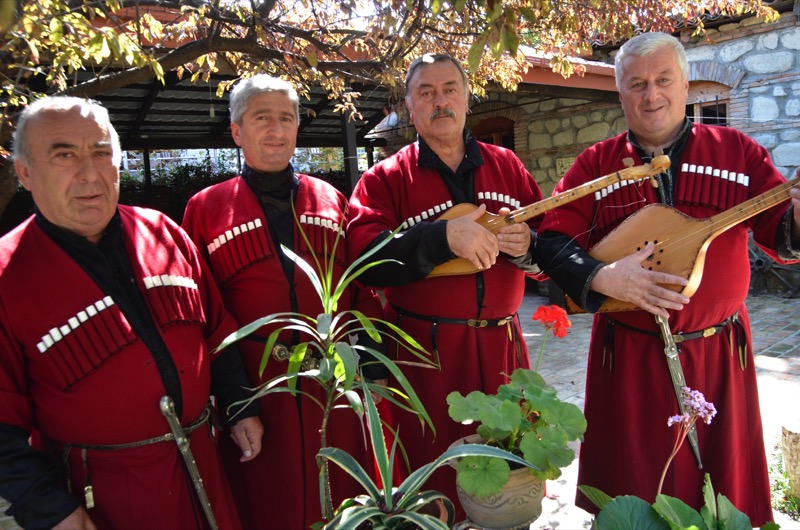 So much song! You've got to hear it to appreciate its rich, ringing harmonies. Georgian vocal music developed independently of Western European rules of harmony, its scales based on fifths rather than octaves, and its intervals not tuned to each other, as Bach dictated in the 18th century. This gives its choral music a fierce and intense sound that sends chills up your spine.
Kind of like the way Tbilisi does.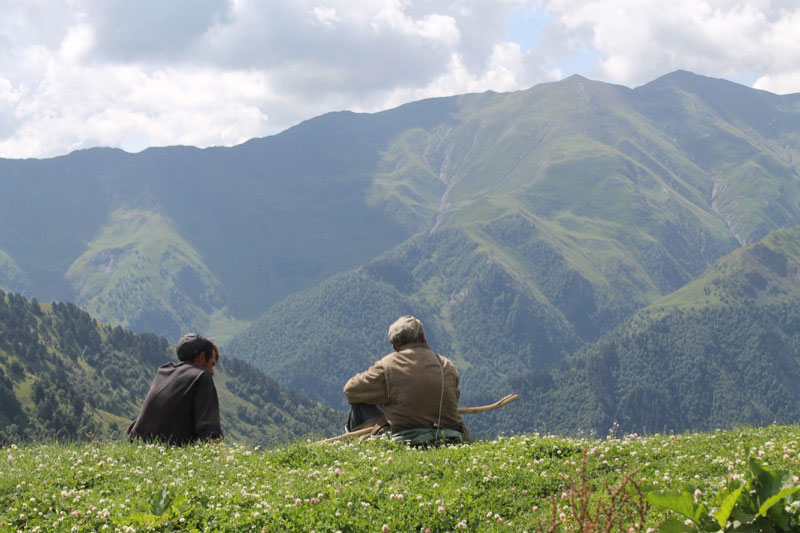 Travel to Georgia with MIR
MIR has 35 years of unmatched destination expertise and travel planning experience, hand-crafting tours to Georgia and the South Caucasus since 1986.
Join our small group tour A Taste of Georgia: Wine, Cuisine & Culture. Meet with chefs, winemakers, artisans, and musicians as you sample the food, wine, warm hospitality, and living traditions of this ancient country.
You can also explore the history and cultural traditions of Georgia and the other South Caucasus countries – Armenia and Azerbaijan – on one of these small group tours or rail journeys by private train:
Or, opt to travel on your dates and at your pace on a private journey of Georgia, customized to your desired dates and style, or on one of MIR's private flexible independent trips:
Chat with one of our destination specialists now!