Travel Inspiration: What's New in Bosnia & Herzegovina
We're in regular communication with our friends and colleagues overseas and appreciate their consistent updates so much, we thought you'd also appreciate a first-hand update from the international MIR network. We are tapping this network of guides, tour managers, partners, and staff in our affiliated ground offices to relate their first-hand accounts from MIR's destinations in our new blog series: Reporting in from MIR Destinations.
Recently, our blog introduced you to several of our tour managers. As the world gradually reopens, you may be wondering what's happening in a specific destination you're planning on visiting sometime in the future. This blog series will provide field reports with detailed updates and conditions on the ground.
Our first set of destination reports came from the region of the South Caucasus and Turkey. This batch is from the Balkans. Read a dispatch from each country in this region:
Bosnia and Herzegovina (below)
Reporting in from Bosnia & Herzegovina
Information current as of September 24, 2020.
1. Let's start with the status of international flights – what's the situation?
Bruno: The Sarajevo Airport resumed international operations on June 1st, after being closed for two months due to the coronavirus pandemic. At the moment there are direct flights between Sarajevo and Vienna on Austrian Airlines, Zagreb on Croatian Airlines, Belgrade on Air Serbia, Istanbul on both Turkish Airlines and Pegasus, and Dubai on flydubai.
The airport has also implemented hygiene and safety measures recommended in order to prevent the spread of COVID-19, in accordance with the Bosnia & Herzegovinan government's Program for Recovery and Working During and After COVID-19. In addition to extra measures that employees must take, there are measures for passengers including the wearing of masks, keeping physical distance, and disinfecting hands and footwear when entering the Terminal building.
(click image to view larger photo)
2. What's new in Bosnia and Herzegovina?
Bruno: On February 12th the Museum of Optical Illusions opened in Sarajevo. This is the first museum of its kind in Bosnia and Herzegovina, and is the largest museum of optical illusions in the region at around 3,229 square feet. Young artists from the Sarajevo Academy of Fine Arts contributed to the museum, and visitors can see more than 100 exhibitions and objects from all generations – some of which promote the culture and traditions of the country, such as a 3D depiction of the mascot of the 1984 Winter Olympics in Sarajevo, Vucko, that serves Bosnian coffee. The museum has an interactive concept, and the goal is to have visitors explore the unconventional museum rooms on their own.
I would also recommend a ride on the Sarajevo Cable Car. It's one of the best attractions in the city and a popular gathering place, but also a symbol of the city's indestructible spirit and pride. The cable car was first built in 1959 in order to connect the city with the Trebević mountain range, the city's lungs, as the inhabitants called it. At that time, Sarajevo was among the few cities where one could reach pine forests in just 10 minutes from an urban city center. During the war of aggression against Bosnia and Herzegovina from 1992 to 1995, the cable car was totally destroyed. But it has been recently reconstructed, and a new and even more beautiful aerial cable car was presented to the city.
The aerial cable car operates from the city center to the top of Mount Trebević, where visitors can enjoy a beautiful panoramic view of Sarajevo or take a walk. It's also possible to walk around the remnants of the Olympic bobsled track and Čolina Kapa observatory, and relax at one of the many hospitality facilities.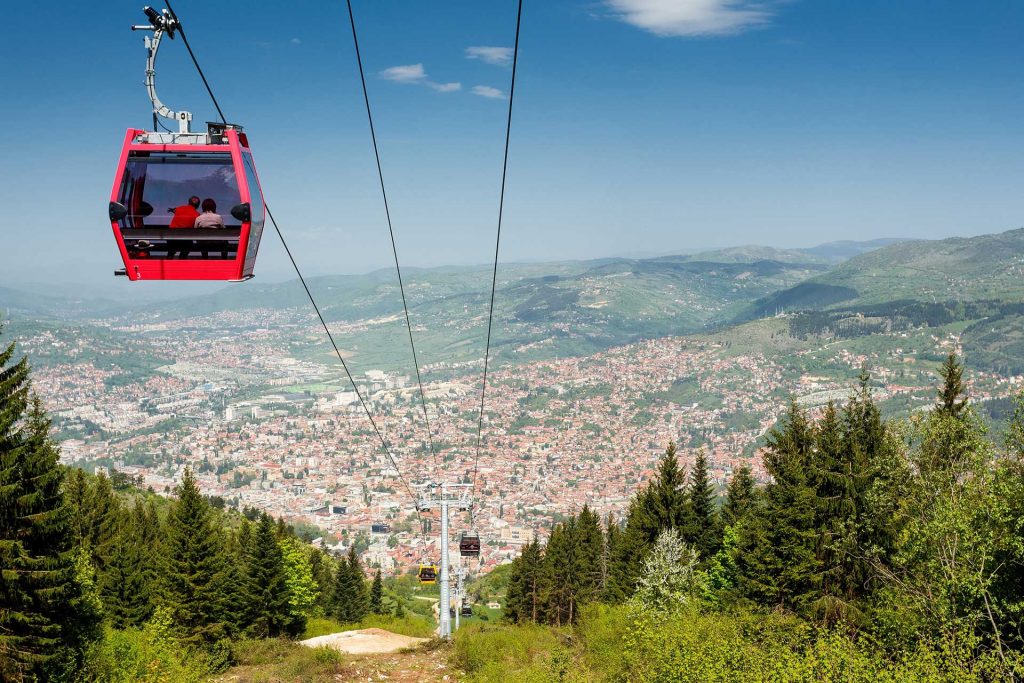 In terms of hotels, it's worth mentioning that the Rotana Hotel Group has opened a new hotel in Sarajevo called the Bosmal Arjaan by Rotana. This is a stylish and contemporary property with one, two, and three-bedroom hotel suites offering comfort and convenience when visiting this exciting city. The hotel also has a chic dining venue, Urban café.deli, where you can enjoy a casual meal or meet friends for drinks or coffee, as well as a Fitness & Wellness Club with a gym, sauna, Turkish bath, steam room, and massage rooms.
3. How strong is the USD these days?
Bruno: The domestic currency in Bosnia and Herzegovina is the Bosnia-Herzegovina Convertible Mark. Right now, it's about 1.65 Bosnian marks to the USD. The rate has held pretty stable in 2020 and we expect the same for 2021.
(click image to view larger photo)
4. What's the first dish and/or beverage you most like to introduce visitors to?
Bruno: Cuisine in Bosnia and Herzegovina is a mixture of Western and Eastern influences. The food is closely related to Turkish, Middle Eastern, and other Mediterranean cuisines. But due to years of Austro-Hungarian rule, there are also many culinary influences from Central Europe. This combines to create delicious roasted meats, stewed vegetables, and bread in a bevy of combinations.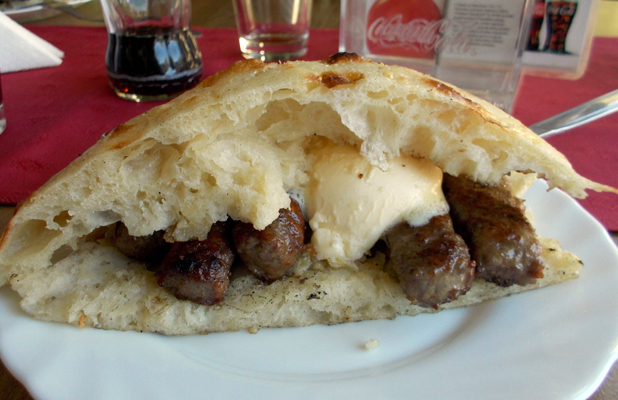 The most famous and popular traditional dishes that I always recommend are:
ćevapčići, made from grilled minced meat and served with somun, a special kind of bread, and chopped onion
pita, a pie with different fillings such as meat (burek), cheese (sirnica), cheese and spinach (zeljanica), spicy potato (krompiruša), and pumpkin (tikvenica)
dolma, different kinds of vegetables filled with a mixture of minced meet, rice, and spices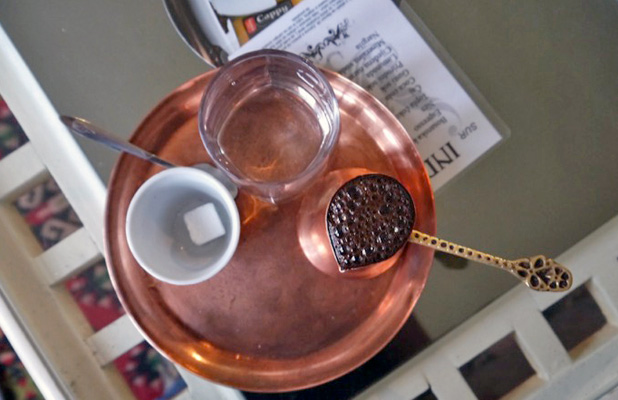 And I have to mention that coffee in Bosnia is a traditional daily custom and plays an important role in society, especially during social gatherings. The most popular kind of coffee is "Bosnian coffee." Bosnian coffee is served in a džezva, in which it was heated, and placed on a round copper tray with a ceramic cup filled with a small amount of hot water, a tall glass of water, sugar cubes, and ALWAYS rahat lokum (sweet jelly cubes covered in powdered sugar or rolled in sesame seeds – in other words, Turkish delight.) This is a great example of Turkish/Ottoman influence on Bosnian cultural and culinary traditions.