Travel Inspiration: What's New in Kosovo
We're in regular communication with our friends and colleagues overseas and appreciate their consistent updates so much, we thought you'd also appreciate a first-hand update from the international MIR network. We are tapping this network of guides, tour managers, partners, and staff in our affiliated ground offices to relate their first-hand accounts from MIR's destinations in our new blog series: Reporting in from MIR Destinations.
Recently, our blog introduced you to several of our tour managers. As the world gradually reopens, you may be wondering what's happening in a specific destination you're planning on visiting sometime in the future. This blog series will provide field reports with detailed updates and conditions on the ground.
Our first set of destination reports came from the region of the South Caucasus and Turkey. This batch is from the Balkans. Read a dispatch from each country in this region:
Information current as of September 30, 2020.
1. Let's start with the status of international flights into Kosovo – what's the situation?
Jenka: On June 1st, Kosovo re-opened its borders to everyone, including citizens from the U.S. and European Union, with no quarantine or negative COVID-19 test required. The Pristina International airport is also open to all travelers, and flights are operating with Austrian Airlines (Vienna), Turkish Airlines (Istanbul), and Wizz Air (various cities.)
Most businesses have re-opened and are operating in accordance with official regulations, such as mask wearing and social distancing. But there are still curfew restrictions in place throughout the country from 10:30pm to 5:00am for all businesses and citizens. Face masks are also mandatory in enclosed as well as open areas.
(click image to view larger photo)
2. What's new in Kosovo?
Jenka: Progressive politics! Since Kosovo declared its independence from Serbia in 2008, it has taken a long time to be recognized internationally as an independent state (116 countries have recognized Kosovo so far). But we are seeing some more progress this year, and especially some exciting news quite recently.
On September 4th a two-day meeting was held in Washington D.C. between delegations from Serbia and Kosovo to normalize economic relations between the two countries. The meeting was hosted by the Special Presidential Envoy for Serbia and Kosovo Peace Negotiations, Richard Grenell, and the United States National Security Advisor, Robert O'Brien. The delegations of Serbia and Kosovo were led by the President of Serbia, Aleksandar Vucic, and the Prime Minister of Kosovo, Avdullah Hoti.
Further negotiations on the recognition of Kosovo's independence from Serbia are expected in Brussels – this is truly motivating news for our region!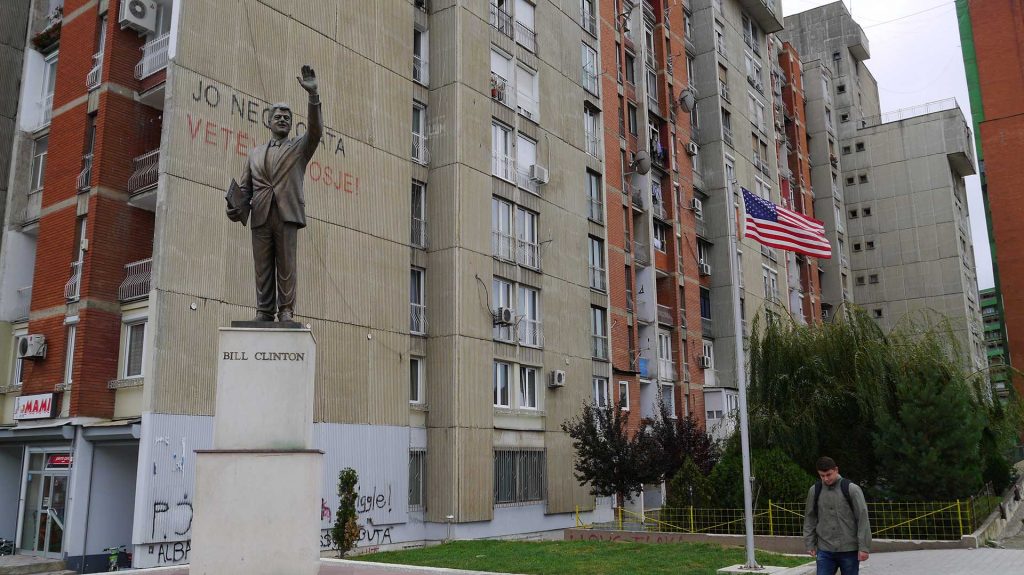 3. How strong is the USD these days?
Jenka: The local currency used in Kosovo since it declared independence is the Euro, so the exchange rate is about .84 Euro to the dollar right now.
Kosovo is by far the best-value Balkan nation, and the dollar stretches much further than elsewhere in the region. Like many places, the local economy has been hard hit this year but so far, we haven't seen any increase locally in the price of goods. Let's hope it stays that way!
(click image to view larger photo)
4. What's the first dish and/or beverage you most like to introduce visitors to?
Jenka: Kosovo is well known for its byrek, or burek, a phyllo-type pastry stuffed with meat, spinach, or cheese. I highly recommend it!
Another specialty I have to mention is flija, which is usually made for important family occasions like a celebration or holiday. Flija is made by pouring thin layers of batter and cream in a pan and cooking each layer individually, one by one, with metal lids called saç, which are topped with hot cinders.
(click image to view larger photo)
And I can't leave out baklava; tulumba, a deep-fried batter soaked in syrup; and hashure (Noah's pudding), which is a mixture of grains, dried fruits, and nuts. You can find a variant of baklava in many destinations, but of course, I find the local Kosovo style among the best.
Kosovo: A Young Nation – Energetic and Evolving
Kosovo has a reputation for exceptional skiing and mountaineering, sadly interrupted by years of war and ethnic strife. Its UNESCO-listed medieval monasteries and Ottoman heritage combine with the traditional hospitality of its people to entice travelers back to its charming cities and towns. Greatly improved roads and infrastructure, elegant cafés, sophisticated shops, and a forward-looking young population make Kosovo an inviting destination.
Whether you're thinking of traveling sooner or later, you can experience all that Kosovo has to offer with MIR. Check out our travel options for travel to Kosovo.
Questions about traveling in Kosovo? Our Balkans expert, Joanna Millick, is happy to chat anytime.